News & Notices
Announcements
Action Design Competition Returns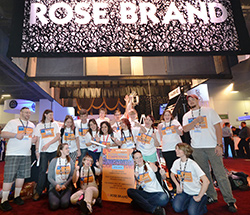 It's almost that time again! The Fourth Rose Brand/USITT Action Design Competition will return this year at the Annual Conference & Stage Expo in Cincinnati, Ohio.
The competition offers four teams of student designers and technicians the opportunity to design a scenic environment under a chosen "mystery" theme. Each team is given limited supplies with no prior knowledge of what will be available. The team members will need to make the best of their mystery supplies with less than four hours to design the ultimate themed environment in the Stage Expo, during Expo Only hours.
The application for the competition will be available on RoseBrand.com in late January. Also, like them on Facebook and follow them on Twitter to view any updates.
Portfolio Reviews Just for You!
Students, young professionals, and all Conference attendees will have an opportunity for a portfolio review in Cincinnati this March.
Anyone registered for the Conference will have an opportunity to have a portfolio professionally reviewed by those working in today's industry. Reviews will be conducted by seven of USITT's Commissions.
The analysis is by appointment only on Thursday and Friday. Those participating are: Costume Design & Technology, Education (new for 2015), Lighting Design & Technology, Management, Scenic Design & Technology, Sound Design & Technology, and Technical Production. Participants have a 30 minute, private review by two experienced professionals.
To sign up for this opportunity people are required to have registered for the conference. All conference attendees will be sent additional information on how to request a review appointment, or can find information under Opportunities at www.usittshow.org.
EdTA Seeks Workshop Proposals
The Educational Theatre Association seeks qualified theatre professionals and educators to submit workshop proposals for its three 2015 educational events: the Junior Thespian Festival (for middle school students and educators, March 19 to 21), the Thespian Festival (for high school theatre students and educators, June 22 to 27), and National Conference (primarily for middle and high school theatre educators and college students pursuing theatre education, October 1 to 4).
The workshops should be interactive and informational; provide immediately actionable insight; demonstrate alignment with the new National Theatre Arts Standards; and be designed to inform a range of learning needs for students and educators. Proposals will be accepted until spots are filled, for Junior Festival until December 1, and for the June Festival and Conference until March 1.
For more information, visit schooltheatre.org/proposals.
Behind the Scenes Happy Hour Massive Success
The Behind the Scenes Happy Hour, hosted by PLASA, was the biggest pre-LDI party of the year with over 400 guests. Twenty-three sponsors donated to the event, and all proceeds -- totaling over $18,000 -- went to the Behind the Scenes charity.
Event Co-chair Steven Way, president of ALPS, said, "Our entire committee was very pleased with the new 'happy hour' format for this PLASA event. Our sponsors really stepped up, allowing us to expand the food and drink offerings, reach a wider audience of industry professionals, and as important, present the Behind the Scenes charity with a wonderful donation. Many attendees said this was our best event with amazing networking, and they look forward to next year."
The Behind the Scenes Happy Hour took place on November 20 at the Westgate Las Vegas. PLASA thanks the sponsors: 4Wall Entertainment (Diamond); Altman Lighting (Diamond); CHAUVET Professional (Diamond); I.A.T.S.E. (Diamond); LDI (Platinum); Nemetschek Vectorworks, Inc. (Platinum); Ultratec (Platinum); Barbizon Lighting Company (Gold); PixelFLEX (Gold); RC4 Wireless (Gold); Stage Equipment and Lighting, Inc. (Gold); TOMCAT USA, INC. (Gold); Total Structures (Gold); TRUSST (Gold); Heartland Scenic Studio, Inc. (Silver); iWeiss Theatrical Solutions (Silver); LEX Products (Silver); Alan Rowe & Tristan Smith (Silver); Sapsis Rigging Inc (Silver); Shepard Exposition Services (Silver); Stan Pressner (Silver);and Mike Wood Consulting, LLC (Silver). Official media sponsors were Lighting&Sound America and Protocol. Event lighting was donated by A.C. Lighting, Inc.
Announce PLASA Focus: Kansas City 2015
PLASA Events will make its first trip to the Midwest for PLASA Focus: Kansas City 2015. This will be the second PLASA Focus event in 2015, and will take place on Wednesday, May 20 and Thursday, May 21 at the Kansas City Convention Center.
Companies already signed up to exhibit at the show include Altman Lighting, Group One, Avolites & Elektralite, Elation Professional, ETC, GLP, Harrington Hoist, Heartland Scenic Studios, IATSE, PixelFLEX, RC4 Wireless, Stagecraft Institute of Las Vegas, Technologies for Worship, TMB, and Ultratec. Companies interested in exhibiting are advised to move quickly to secure their spots since applications are coming in quickly.
Running alongside the show is the highly acclaimed PLASA Professional Development Program, which offers two days of free educational seminars and workshops. The program features world-class speakers and is an opportunity for visitors to further develop their industry knowledge, take part in discussions, and have their questions answered. Sessions will be announced soon.
PLASA Focus shows are intended to target and appeal to a specific regional audience that otherwise may not be reached during larger national industry events. Special discounted rates are available to all PLASA members, regional dealers, regional production companies, and series exhibitors.
For more information, visit www.plasafocus.com/kansas.
To Offer State-of-the-Art Listening Experience
The focus will be on acoustics, audio, and sound systems at a specially equipped SoundLab in Hall 3.2 at Stage|Set|Scenery June 9 to 11 in Berlin, Germany.
The SoundLab is being designed in close cooperation with Gerriets GmbH, KS Beschallungstechnik GmbH, Müller-BBM GmbH, SALZBRENNER STAGETEC, Sennheiser Vertrieb und Service GmbH & Co. KG, Shure Distribution GmbH and Deutsche Theatertechnische Gesellschaft. Additional companies exhibiting in the sections on audio and studio systems, acoustics, sound systems and electro-acoustics will be Audio-Technica Ltd. Deutschland, Clark Door Ltd, coolux GmbH, Eartec Co., HOAC Handels GmbH, Kunkel Consulting International GmbH, LSS Licht, Steuer- und Schaltanlagenbau GmbH, MTS Media Technical System s.r.o. by MovieTech, showTex, The Audio Specialists b.v., Think Abele GmbH + Co. KG (Movecat), Triple E Limited, Wenger Corporation, Werning Theatertechnik Theaterbedarf GmbH, and Wilhelm Westholt GmbH.
Trade visitors are welcome to come and experience the sound created by state-of-the-art audio technology. There will be demonstrations of innovative developments and products under live conditions, and experts will be on hand to provide advice at the SoundLab Lounge.
PQ '15 Fast Approaching
After four years, the largest world exhibition of performance design is set to flood the center of Prague!
Eleven days, 64 national expositions, more than 500 live events at more than 100 locations in Prague, and 50,000 visitors will comprise the 13th edition of the Prague Quadrennial of Performance Design and Space from June 18 to 28.
Besides the exposition of countries and regions, and exhibition of theatre architecture and art schools from around the globe, the program offers lectures, workshops, and a diverse range of live performance in public spaces. Moreover PQ '15 will bring together as many as 5,000 international theatre professionals. The main theme of the event is "SharedSpace: Music, Weather, Politics."
One of the main events will be a lecture by Canadian theatre guru Robert Lepage, known as a director, scenographer, and actor. He is renowned for his multimedia productions. Other leading theatre personalities scheduled to appear include Sean Patten (Gob Squad), Stefan Kaegi (Rimini Protokoll), Philippe Quesne (Vivarium Studio), Numen / For Use, Adrianne Lobel (The Metropolitan Opera, Peter Sellars), Jim Clayburgh (formerly of The Wooster Group / JOJI INC), and Mike Pearson (National Theatre Wales, Aberystwyth University).
All information can be found at www.pq.cz.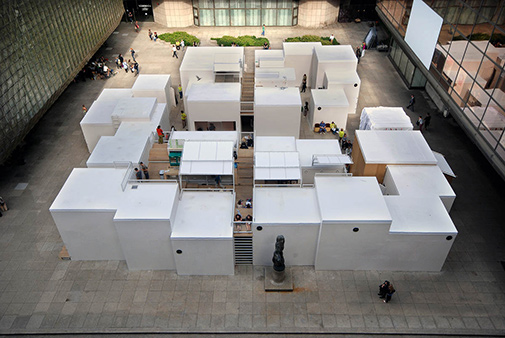 ETC Keeps on Giving
On the floor of the LDI Show, Fred Foster, CEO of ETC, presented a check for $24,909 for Behind the Scenes to Rick Rudolph and Mark Heiser, the chair and treasurer of the PLASA Foundation. The donation, the second of this year, reflected ongoing proceeds from sales of ETC's iRFR and aRFR (Radio Focus Remote) applications for iPhone, iPod Touch, iPad, and Android devices.
These apps, developed by ETC software engineers Chris Mizerak and Anders Ekvall, continue to be popular and have become the gift that keeps on giving to the charity. When ETC employee Luke Delwiche suggested giving the proceeds from the app to charity, no one could have known that it would bring help and hope to so many people. The check brings ETC's total Behind the Scenes contributions to date to just under $200,000.
For more information about Behind the Scenes, to donate, or to apply for a grant, visit www.behindthescenescharity.org.