Conference & Stage Expo
Excitement in Cincinnati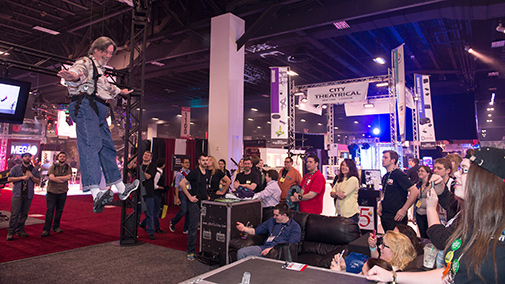 Noticed some growth to USITT over the past two years? Those who last visited the Stage Expo before 2013 have missed out on seeing the show grow from 193 companies to more than 275 expected to attend this year. Think it's just more of the same? Think again!
The USITT board, committees, and members have named the companies they would like to see more of at the Stage Expo and ways to help find the best products and services available.
Events and associations that intersect with entertainment production -- like the American Sewing Expo and the National Safety Council's convention – have provided new ideas. Sewing products and manufacturing equipment can be used in costuming and scenic design. Last year, Baby Lock had a terrific show meeting members and have stepped up their commitment to the Institute with a larger space, membership support, and training opportunities.
Other areas aim at the needs of technical directors and carpenters. The latest in 3D model printing and CNC machines will be represented at Stage Expo for the first time.
Looking toward growth in digital projection technologies, visits to InfoComm and the National Association of Broadcasters increase the Institute's connection to media beyond those already represented at Stage Expo.
After meeting with USITT, hearing about the membership and opportunities for growth, most manufacturers are enthusiastic to take part. The entertainment industry is constantly changing. It's USITT's job to make sure members are connected to the best manufacturers, distributors, educators, and job opportunities in the industry.
Those in Cincinnati for the 2015 Conference & Stage Expo should make sure to visit these new and returning companies.