Conference & Stage Expo
USITT App Aids Annual Conference Planning – and More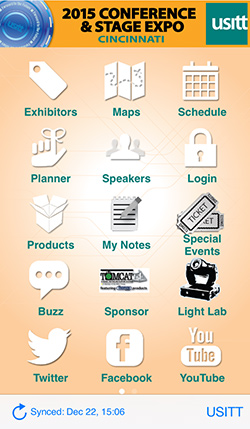 By now, members should have registration forms in hand or on the USITT website to fill out before February 5 to save up to $72 off the full conference registration.
Download the USITT App, sponsored by Schuler Shook, to help with planning for the event. The app provides access to all the Conference information including an alphabetical listing of exhibitors, their booth numbers, and a map of the Expo Hall. The exhibitor listing includes contact information and a few details about the company/school or products. The Schedule lists all the meetings and sessions. Click on a session for details about the session, location, and speaker. Add the Session or Expo Only Time to the Planner Itinerary, click on add to device calendar, and take notes on a mobile device. The USITT App provides access to networking through Facebook, Twitter, YouTube, Instagram, and Linkedin. All of this information is found by clicking on the 2015 Conference button.
The USITT App is more than just Conference information. Find jobs, read Sightlines and TD & T, check the Calendar of events and meetings, and support Institute with donations to a number of funds listed under the give button. In USITT Presents, access information on training and special events.