News From
Sustaining Members
Chauvet Professional: Rogue Lighting Line Fights Budget Tyranny
Chauvet Professional launched the Rogue line of "weapons of mass creation" which it says can liberate imaginations from the tyranny of tight budgets.
Four new offerings – Rogue R1 Spot, Rogue R2 Spot, Rogue R1 Beam, and Rogue R2 Beam – offer designers the opportunity to tap into their creative imaginations without blowing the budget.
Rogue R1 Spot offers a rotating, three-facet prism for stunning visual and aerial effects, plus motorized iris and focus for easy beam shaping. It features two gobo wheels: one fully rotating/indexing with interchangeable gobos to fit custom needs and one with fixed gobos that is variably scrollable.
Rogue R2 Spot is a class leader in LED automated spots, combining incredible value with quality engineering. It features two continuously and variably scrolling color wheels, allowing a large series of split colors.
Rogue R1 Beam is an exceptional value proposition, with a 14-slot fixed color wheel that has split colors and continuous and variable speed scrolling. Its game changer is the set of two prisms, one five-facet and one eight-facet, that are layerable, independently rotating, and controllable providing aerial and gobo effects never seen before.
Rogue R2 Beam is the light cannon of the series boasting an intense 133,200 lux at 15m with its Osram Sirius 230W HRI lamp. It comes with 14 fixed colors in its fully scrollable, variable speed color wheel, which also provides split colors perfectly.
IATSE: Local Organizes Les Ballets de Jazz Montréal
IATSE Local 56 filed for certification with the Quebec Labour Board on April 24 for representational rights of the employees of Les Ballets Jazz de Montréal and was awarded bargaining rights on June 3. The certification covers the touring crew, which consists of five technicians.
Formed over 40 years ago, Les Ballets Jazz de Montréal is an internationally renowned repertory company that presents a hybrid form of dance, combining the aesthetics of classical ballet with many other styles and forms of dance. The new Local 56 members look forward to a productive relationship with BJM and are excited at the prospect of working under a collective agreement.
GLP: MIRRAD Storms Bastille with GLP impression Artillery
Lighting designer Jamie Thompson again turned to GLP's groundbreaking LED impression series to help create dramatic stage impact for this year's world tour by Bastille.
Three years after successfully integrating the impression 90s (and Zoom) into The Script's show design, Mr. Thompson's company MIRRAD (which he runs with experienced co-lighting designer Bryan Leitch and Dave Cohen) specified 60 of the German manufacturer's highly popular X4 moving heads. The inventory was supplied by PRG after first providing a demo of the fixtures.
The London-based band, fronted by Dan Smith, has been playing a range of successful shows, including the massive Coachella Festival in the United States (where Will Dart was programming and operating the lighting board). The production concept this time around has been to highlight the triangle symbol which replaces the "A" in Bastille — and the impressions are used to line the upstage triangle and mid-stage diagonals. They are also rigged overhead for use as mid-air effects and to wash the stage.
Although Bastille's rig size has downscaled for some of the smaller shows, the full GLP inventory will be on display again in October. Meanwhile, Mr. Thompson is planning to rejoin The Script for further shows.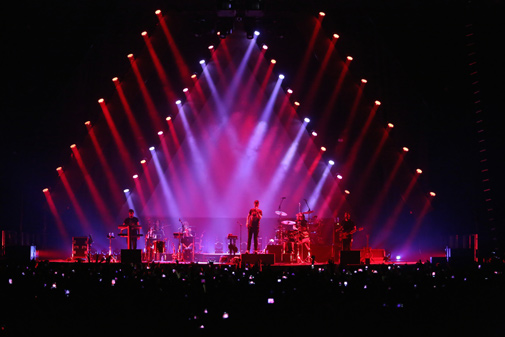 Theatre Projects: The Cube -- Where Science and the Arts Meet
The Collaborative Performance Lab, or The Cube, as it's quickly come to be known, is perhaps the most innovative feature of the new Moss Arts Center at Virginia Tech. Home to the school's newly formed Institute for Creativity, Arts, and Technology, The Cube was designed by Theatre Projects, in collaboration with Snøhetta Architects and STV Incorporated, to provide an environment for exploring the intersection of the arts, design, engineering, and science.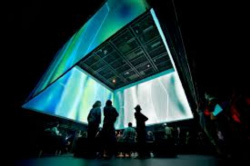 "Virginia Tech wanted a state-of-the-art room that did everything, but contained nothing. What we gave them was essentially a blank canvas hung on a robust infrastructure—an empty space with the adaptability to receive and support anything they could imagine," said David Rosenburg, Theatre Projects' project manager.
The Cube is essentially a robust black box theatre featuring a large performance, rehearsal, and audience space surrounded on all sides by technical galleries. But what makes this highly adaptable room unique is the infrastructure designed by Theatre Projects that allows the university to bring in any element and equipment imaginable. The Cube features chain motors, theatrical draperies, and, instead of a pipe grid (typical of black box theatres), the venue features a 32-foot tall gridiron, capable of rigging lighting, scenery, props, and video and audio equipment in infinite combinations.