Conference & Stage Expo
Cincinnati's Fountain Square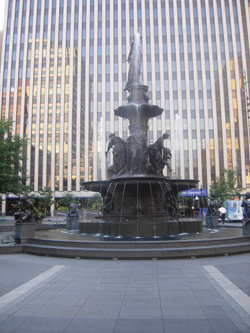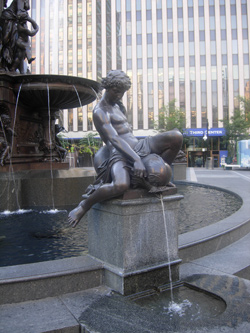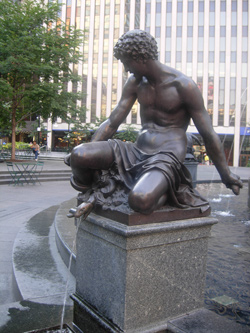 The opening of the WKRP in Cincinnati television sitcom – featuring Dayton, Ohio natives Gary Sandy and Gordon Jump – highlights Cincinnati's Fountain Square. The Riverfront and the skyline of Cincinnati have changed a great deal since that series was on the air and continue to change, but the fountain remains.
USITT members of a certain age will appreciate an earworm and the Thanksgiving episode from the series. Those too young to remember this show will find it great vintage research. (There are ads before it starts.)
Fountain Square is considered the symbolic center of Cincinnati's civic, social, and commercial life attracting more than two million people each year for everything from morning coffee and lunch to free concerts and movies.
The Tyler Davidson Fountain was dedicated in 1871 "To the People of Cincinnati" when Fountain Square was a wide, flat, open area down the middle of Fifth Street. Henry Probasco went to Cincinnati's sister city, Munich, Germany, where the fountain was designed and cast at the Royal Bronze Foundry of Bavaria. The nine foot tall female figure, The Genius of Water, is the central figure pouring water from her outstretched fingers to the figures on the square pedestal below her. The figures represent the four principal uses of water. Steam is used to power an engine for a trip hammer in iron work; water-power is used by peasants carrying corn to a watermill; navigation is represented by a steamboat leaving the shore; fisheries are depicted by groups of fishermen and children.
Rising from the center of the pedestal is a column covered with interlaced foliage. The column is surrounded by more figures. One needs water to put out a fire on a burning roof, another is a farmer in a field plagued with drought, the third depicts a girl offering water to an old man, and the fourth is a mother leading a boy to the bath. There are four working drinking fountains with figures of boys and animals representing the pleasures of water.
The water for the fountain is turned on the Saturday before Opening Day of Major League Baseball and turned off in late November or early December depending on the weather.
The Square was redesigned in 1970 to allow for better traffic flow. The fountain was moved to the south end of the plaza at the same time. In 2000, the fountain was cleaned, restored, and rededicated. When the square was renovated in 2006 as part of the revitalization plan for downtown Cincinnati, the fountain was removed and put on display at the Cincinnati Art Museum. The original model for the fountain is at the museum.