News & Notices
In Memoriam: Jay O. Glerum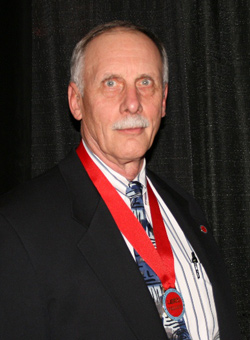 Noted rigging authority Jay O. Glerum died on June 26, in his hometown of Bothell, Washington, after a brief illness. He was 74 years old. He is survived by his wife of more than 50 years, Sara (Sallie), four children, and three grandchildren as well as numerous cousins, nieces and nephews.
Mr. Glerum, a Fellow of the Institute, was born August 16, 1939 in Washington, DC. His family moved frequently throughout the Midwest during his childhood and finally settled in Wheaton, Maryland during his high school years. As a teenager, he worked as a carpenter's helper and apprentice cabinetmaker. His teacher and mentor, Peg O'Brian, introduced him to theatre through his high school's drama club. Instead of going to college after graduating, Mr. Glerum, at Ms. O'Brian's suggestion, signed up to work in summer stock and tour with the Catholic University drama department. He spent a year touring 36 states, Germany, Austria, and Italy.
He studied engineering for a year at Montgomery Junior College then worked various jobs, including summer theatre before attending the University of Washington. While there, he met and married fellow student Sara "Sallie" Johnson. After graduation, he started teaching at Seattle University's new theatre department. In 1972, Mr. Glerum started teaching at Marquette University, which was constructing a new theatre building.
He joined USITT and attended the Annual Conference & Stage Expo St. Louis, Missouri in 1973. In 1980 he started working for Peter Albrect Rigging Company. During that time, he worked closely with the USITT Engineering and Technical Production Commissions to develop rigging standards and practices.
He returned to the University of Washington in 1986 to head the technology program. In February 1987 Mr. Glerum participated in the first rigging seminar, held at the Krannert Center at the University of Illinois. In April 1989 the Stage Rigging Handbook was released. The following year he founded Jay O. Glerum and Associates resigning from the university in 1993 to work the business full time, which continued until this past year.
Mr. Glerum was an annual presenter at the USITT Annual Conference & Stage Expo. He held various offices including Vice-Commissioner, Commissioner of Technical Production and several terms as a Director-at-Large on the Board. He received the International Health and Safety Award (1992) and the Joel E. Rubin Founder's Award (2001), and was inducted as a Fellow in 1995.
He revised the Stage Rigging Handbook, now in its third edition; it continues to be regarded as the definitive work on the subject.
A "Cast and Crew Party" in his honor will be held 1 to 4 p.m. August 3 at ACT Theatre's Bullitt Cabaret, 700 Union St., Seattle, Washington. Donations in his memory may be made to: The University District Food Bank (1413 NE 50th St., Seattle, WA 98105), Operation Sack Lunch (OSL P.O. Box 4128, Seattle, WA 98194), or www.behindthescenescharity.org.