News From
Contributing Members
Philips Group: Luminaires Ideal Solution for Shrek: The Musical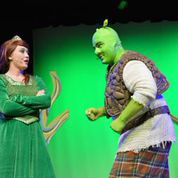 At Lipscomb University in Nashville, Tennessee, the Department of Theatre strives to entertain, instruct, move, and motivate audiences of all sizes. During the recent production of Shrek: The Musical, Assistant Professor David Hardy was challenged to live up to this motto through an energetic and compelling lighting design that could bring the full production to life. To do so, he needed extra punch and color from his lighting tools, so he turned to Philips Group's Vari-Lite and chose VL770 Spot luminaires as his ideal design solution.
"When we first started the design process we hadn't planned on using any moving fixtures, but as we got further into the script, we realized we needed multiple lighting positions and a wide range of color options," said Mr. Hardy. "Looking at the automated luminaires available, we didn't have space for large fixtures, and they had to be able to operate on 110V. The VL770 Spot luminaires gave us everything we needed through an overall better quality of light with dynamic specials and powerful color punches."
As with any university environment, Mr. Hardy knew that while he had the VL770 Spot luminaires for the production, he also had the opportunity to use the fixtures as a teaching tool for his design students. And this was an opportunity he did not want to pass up.
Philips Vari-Lite automated lighting systems are available through a worldwide network of independent professional dealers. Visit www.vari-lite.com for more information.
PRG: Lambright Named Marketing VP
Production Resource Group LLC (PRG) announced that Stephen Lambright has joined its executive leadership team as vice president of marketing.
With over 20 years of international marketing and brand development experience, Mr. Lambright will be responsible for the company's global marketing strategies, implementation of marketing programs that enhance and expand PRG's industry leadership, and promotion of PRG innovations to partners and clients. As a member of the company's executive leadership team, Lambright will report to CEO Jeremiah Harris.
Mr. Lambright previously held executive positions in marketing, strategy, and business development at some of the world's most innovative companies including XOJET, Apprion, Savi, NetObjects, Narus, and Informix. He received his MBA from the University of California, Berkeley, and his undergraduate degree from Northwestern University.
InterAmerica Stage, Inc.: Adds Projection Design, Maintenance Services

InterAmerica Stage (IAStage) now offers design and maintenance services for projection systems. Mark T. Black and Curtis Edwards spread the word about the new services at InfoComm in Las Vegas in June.
"We are really excited to have Curtis on our team. He is so well read and experienced in projection equipment, it's like having a designer, consultant, fabricator, and technician all wrapped up into one," said Mr. Black.
Mr. Edwards' expertise is in mechanical and projection system design. He joined IAStage as an imaging engineer in March bringing more than 25 years of projection experience from the themed entertainment industry.
IAStage known for SkyDeck (a modular tension wire grid system), specialty stage equipment, and rigging. Expanding the company's reach to include AV technology is a natural step.
Projection services range from preventative maintenance agreements (PMA) to complete projection system design.
For more information, contact InterAmerica Stage, Inc. at 407-302-0881 or visit www.iastage.com.
ETC: Introduces Nomad, Nomad Puck Portable Lighting Controllers
ETC has just added two products to its lighting-control lineup: the Nomad software and Nomad Puck controller. Designed for situations when lighting professionals can't bring their consoles with them, Nomad and Nomad Puck allow users to program and run shows from anywhere.
"One of the best features of Nomad and Nomad Puck, is the ability to run either Cobalt or Eos/Element software," says Eos Product Manager Anne Valentino. "It's like having two consoles in one – users don't have to choose between the two control platforms."
Both Nomad and Nomad Puck can serve as a primary controller, a backup, or a client device, and can be used offline.
Nomad is a tiny device that attaches to PCs running either Microsoft Windows 7 or 8, or Macintosh OS X (Mavericks). It is available in four output counts: Nomad 256 that offers half a universe, Nomad 1024 with 1,024 outputs, and Nomad 1,536 outputs – all of which can be upgraded in the field without needing hardware changes – and Nomad 2048, which offers 2,048 outputs.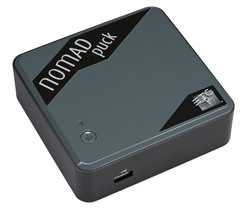 Nomad Puck is a controller that offers all of the advantages of PC-based control but with greater security, because it prevents the download of any programs except ETC applications. Like Nomad, Puck comes in four output counts: Nomad Puck 1536 with 1,536 outputs, Nomad Puck 1024 with 1,024 outputs, and Nomad Puck 256 with half a universe of output – which are field-upgradeable – and Nomad Puck 2048 with 2,048 outputs.
Both Nomad and Nomad Puck can support external fader wings, and they can work with ETC control accessories such as the Radio Focus Remote (RFR) and the iRFR and aRFR apps for Apple and Android devices.
To learn more about Nomad and Nomad Puck, visit www.etcconnect.com.