News & Notices
Grant Allows Shift in Cultural Perspective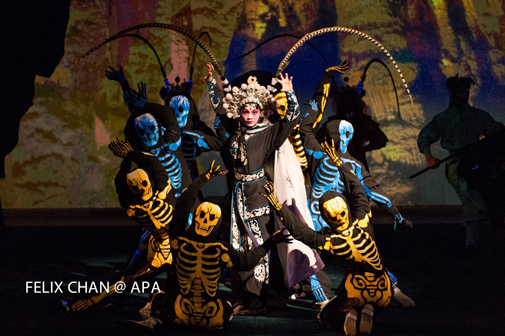 With the generous support of the 2013 USITT Student International Travel Grant, I spent six weeks with the Hong Kong Academy for the Performing Arts studying and working as an assistant designer on the Cantonese opera The Monkey King and the Skeleton Demons. Charged with the "Skeleton Demons" portion of that title, I worked with a team of HKAPA students and senior lecturer Sarah Oliver to realize my designs. Attending rehearsals, fittings and production meetings conducted entirely in Cantonese provided a thrilling front row seat to the world of Cantonese opera design.
I also had the opportunity to take two trips to Mainland China, once to Shenzhen and also Beijing. A Qing Dynasty embroidery workshop and private tour of the Museum of Ethnic Costumes at the Beijing Institute of Fashion Technology opened my eyes to a world of immense tradition and craftsmanship.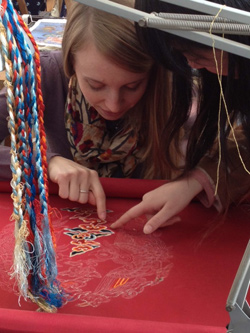 Early in the production process at the HKAPA, a professor compared the highly character-specific movement in Cantonese Opera to ballet in strictness of form. Performers often begin training at an incredibly young age with a master who passes down knowledge of various character roles. This adherence to tradition also informs the costume design process. Costume designer Mable Wun coordinated costumes traditional to character types seen in the opera. For instance, the figure of the monkey king wore yellow (to denote royalty) decorated with a pattern only worn by that character. Seeing costumes of vastly different time periods within one production is typical, depending on when the character type was codified in history.
On my first day at the APA, the assistant lecturer, Winnie Yu, shared several clips of productions of The Monkey King and the Skeleton Demons on Hong Kong's equivalent of You Tube, which featured black body suits and skeletons in UV paint that hopped eerily in the blackness of the stage. This is what the director wanted. Using my original sketch and anatomical references as guides, I made several body-sized skeleton stencils to achieve the desired design. A pile of bones, rib cages, and skulls littered the cutting table in the HKAPA costume shop. Even in such a state of disarray, a peculiar observation came to light—"Your skeleton looks very western." Having believed we all looked the same underneath, this observation came as a surprise. How does a bag of bones look Western?
Although I am no stranger to international travel, this was the first time in my life that I felt incredibly aware of my own culture's influence on me when dropped into a foreign artistic community. Setting associations of our own culture aside can be incredibly difficult, especially when working within a world adherent to tradition. The Western skeleton was a wake-up call; am I creating what I see or what I know?
Since returning from Hong Kong, I have continued to explore Eastern design practices with a conceptual collaboration via Skype with students from the HKAPA and the University of Missouri-Kansas City for the Kunqu opera The Peony Pavilion. The motivation for this process came from a mutual desire of both institutions to gain a better understanding of period Eastern and Western silhouettes.
The dialogue with new colleagues and friends at the HKAPA is one I hope to continue as I launch my career as a costume designer. Without the assistance of the USITT grant, the door to Hong Kong's rich traditions and resources would not have been possible. Thanks to the grant, I have a new set of creative tools and knowledge. The experience gained in those six weeks continues to influence me both professionally and personally.