News & Notices
Jay O. Glerum, A Force for the Institute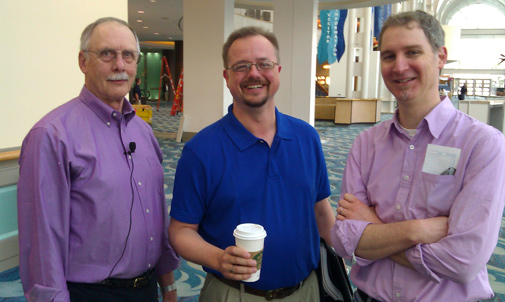 Rick Stephens remembers his good friend Jay Glerum:
One of the unexpected results of having chaired the Living History Project (LHP) for USITT is that I am all too often called upon later to contribute research or write obituaries for colleagues. Inevitably, this means sitting and reviewing the videotape from their interview. This can be especially poignant when that colleague has also become a close friend. Jay O. Glerum was my good friend, and I miss him very deeply.
Jay and I first met at a Technical Production Commission meeting at the 1983 Corpus Christi Conference. He stood out in the group that day. It wasn't all that hard; there were less than 10 of us at the meeting, and Jay was by far the tallest! I liked that he listened and only spoke when he had something worthwhile to say. This was refreshing considering some of the others in the room. Later he stopped by my booth, and we spent some time getting to know each other. We hit it off right away. It's like that sometimes – kindred spirits. It almost felt as though we were already friends before we met. Strange perhaps, but there it is. Soon we were finishing each other's sentences.
Later, during the banquet, President of the Institute, Ron Olsen, was giving his farewell speech, and I noticed Jay again. He was sitting at a table with a number of others who shall remain nameless (there were at least two future USITT Presidents at the table with him). Ron's speech was full of flowery language and about halfway through, the folks at Jay's table got the giggles. Like trying not to laugh in church, it began to spread. I was new to the Institute and shocked at first, but I was soon giggling into my napkin with everyone else. It was good to think that not everyone took themselves too seriously in this group.
So here I was today, reviewing the LHP interview tape I did with Jay 15 years ago, and laughing all over again at the memory of that night. It was good to remember that not all memories of the departed need be sad ones. I even laughed out loud when he reminded me that the next president, Randy Earle, had not allowed the same group to sit together at the banquet the next year.
As I continued to review the video, copying down details of Jay's career, I came to the part of the interview where we ask the subject to give us impressions of other Institute members they have known over the years. Jay was a wonderful storyteller, and on this occasion he did not disappoint. He was always kind and generous and had the knack of always showing others in the best light even when relaying stories of their foibles. At one point we were discussing a well-known colleague who is somewhat short, and round, and often wears purple. As the interviewer, I asked, "Ah, yes. Dr. Doom. But can you think of anyone else who has had such a profound and far reaching effect on the health and well being of the profession?" Suddenly I had gooseflesh on my arms, the hair stood up on my neck, and I reached out and hit the "pause" button on the remote. I knew from memory that Jay was going to think for a moment and reply softly, "No, no one else," when the tape resumed. I also know now that his answer would be wrong. I realized that I knew of another person…
One of the things Jay and I often talked about, as older men will do, was the satisfaction we felt at the state of the Institute and the hope that we would, in perhaps some small ways if we worked hard enough and were lucky enough, contribute. But some of us through our work don't just contribute; the great ones truly make a difference. Through his teaching, seminars, workshops, classes, inspections and writings, Jay touched thousands. He was largely responsible for theatrical rigging evolving from an oral tribal history into nationally recognized standards and recommended practices. His work was the foundation upon which the new professional certification in the field is based. It was the reason that he continued to work with passion to teach and inform into the last year of his life.
Jay O. Glerum made a profound difference.
Randy Earle: Remembering my Friend Jay O. Glerum
Having worked with Jay for over three decades on USITT and a wide variety of projects, I am somewhat at a loss to fully express my feelings regarding the death of such a wonderful friend and colleague. Words that come to mind in describing Jay's many contributions to our entertainment technology industry are passion, leadership, wisdom and education. Jay was always passionate about stage rigging standards and wanted USITT to lead in the development and implementation of these critical standards.
His leadership was far greater than just attending meetings as he wrote the major text, Stage Rigging Handbook (now in its third edition) providing the definitions and standards previously lacking for the industry. Through so many meetings with Jay, he could always be counted on for wise counsel as he sat back, listening, absorbing and, then, reacting in his inimitable style, quietly yet firmly. Finally, Jay was our teacher as he taught the many Professional Development Workshops to hundreds of students in addition to continuing consultancy to those of us needing advice and answers.
More importantly, Jay was always my friend. I could call upon him at any time for advice regarding professional or personal matters where I needed help. Once again, he was a listener whom I could always count on for honest counsel. He never hesitated to call things as he saw them regardless of whether his answers would be in line with my predetermined position. When I was facing a very difficult loss in my personal life, Jay was one who was there for me asking what he could do to help. We all have many friends in our personal and professional lives but Jay was one of those special friends who represent a significant loss to all of us. He will be missed by so many.
Mark Shanda: A professional and personal connection
Jay was a giant who started out to me as an idolized author, was a valuable teacher in the master classes that I took from him, and ultimately became a highly respected colleague.
One of my proudest professional moments was when Jay was unable to provide consultant services on a rigging project and recommended to the client that I could handle the job. He will certainly be missed.