Conference & Stage Expo
Vincent Lighting Eager Be a Part of USITT in Cincinnati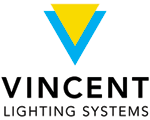 Since 1978, Vincent Lighting Systems (VLS) has provided the midwest with lighting equipment, controls and systems, as well as rentals, productions and supplies. They have four offices: Cleveland, Cincinnati, Pittsburgh and Detroit. VLS has been dedicated to being a part of USITT for decades, and has been a Contributing Member of USITT since 1985, and a Sustaining Member of the regional Ohio Valley Section of USITT since 1986. Paul Vincent, VLS' President, has also served for over 20 years as the regional chapter's Membership Chairperson.
VLS first exhibited with USITT back in 1981, when the show came to Cleveland, Ohio; they have exhibited at various shows since then. In 2015, USITT arrives in VLS' backyard of Cincinnati. This upcoming Stage Expo will give the company an affordable way to reach a large group of local and nationwide customers and prospects.
Over the past year, Vincent Lighting Systems has repositioned itself in the marketplace, rebranding itself and adding key vendors, such as ETC, to its product line. "We continue to expand, update and improve our services; Stage Expo gives us an easy medium to reach our customers with this message, as well as display the latest products from our main vendors," commented Paul Vincent. Drawing a regional attraction, Stage Expo will also allow the company the opportunity to catch up and meet face-to-face with many of their customers in a relaxed, informal setting.
"The key to the long-term success in any industry is reaching out to future customers; today's students. USITT's dedication to educating the younger generation and giving them a place to network with larger corporations is one of the key reasons we are committed to being involved with this organization," explained Paul. "We look forward to partnering with both the national USITT and the regional Ohio Valley Section of USITT to promote a successful return to the Queen City."