News & Notices
Satter New VP Commissions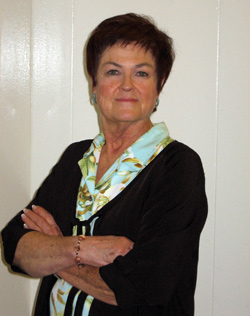 Unlike many of her peers, USITT's new Vice-President for Commissions Carolyn Satter didn't love theatre in high school. In fact, she started college as an accounting major.
It wasn't until she dropped out and started a family that she discovered theatre -- through her daughter's elementary school play. "I happened to sew well, so I became the costumer's assistant," she said.
That fun "mom experience" eventually led her back to school to major in theatre arts at San Diego State University.
"I wanted to go back to school, but realized that accounting was no longer my passion, but theatre had started to be," she said. She soon went from costumes to set design to lighting to stage management – "and at that point, I found my home," she said.
Her senior year, she got an internship at the then San Diego Convention and Performing Arts Center. Thirty-five years later, the venues are called San Diego Theatres, and she's still there, as production and facility manager.
She's also a dedicated USITT enthusiast who calls her new volunteer position "my dream job."
"To be able to work with 10 wonderful Commissions and afford them the leadership to be the best they can be, what could be more exciting?" she asked.
Ms. Satter attended her first Annual Conference & Stage Expo in Las Vegas in 1995 and was soon hooked. Andi Lyons invited her to help with a women's networking project. "Then I went to a Management Commission meeting and (then-Commissioner) Dave Will snatched me up," she said. "I am a joiner at heart."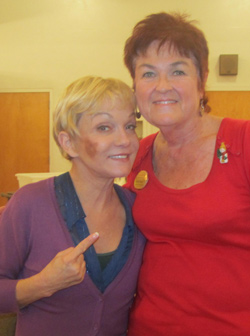 In 1996, she became the Management Commission's Vice-Commissioner for Programming and served for six years. In 2003, she took over as Commissioner for Management and stayed on until 2009. During that time she was appointed to the Steering Committee representing four Commissions. For the past six years, she has served on the USITT Board of Directors. She also served on the Transition Committee and remains passionate about the move from a management to a governance board. She said she's thrilled to return to Commissions as VP because "for 13 years the Commissions were my heart and soul."
"Being part of this organization is addicting, and I'm excited to be able to share my knowledge and assist the future growth of USITT," she said.
Her biggest goal is to make the Institute the best resource it can be for all levels of membership, especially the professional level. "We need to focus on how to grow opportunities for professional members and address their needs as well as we do early career members," she said.
She feels this is an exciting time, with new programs like eSET and board mentorship, and new events like USITT Presents, LiNK, and Spark! giving "the little red square" a key identity in the world of live entertainment design and technology.
A proud mother of five grown children, she boasts an energetic personality and "sassy" spirit. It may not surprise those who have met her that she spends her spare time shooting off fireworks! While not a licensed pyrotechnician, she has crewed for as many as 30 fireworks shows a year, and the last four years has served as operator for the 20-minute July 4 fireworks display at San Diego's Del Mar County Fair. She said it's taught her a lot about safety, another pet cause for USITT.
Here's a video of her 2013 display!