The Last Word:
Institute Collaboration Sparks International Experience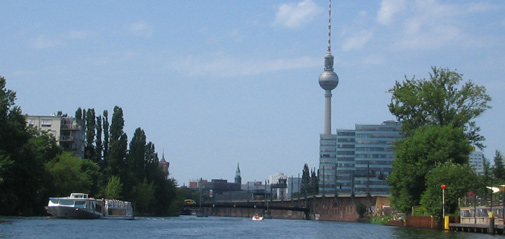 The partnership between USITT and DThG (Deutsche Theatertechnische Gesellschaft or German Technical Theatre Company) has been a huge benefit to me as an educator and professional. During the 2014 Conference & Stage Expo in Fort Worth, Texas, I attended a session titled "Getting to Know Your Neighbors-DThG." It was presented by Gabriele Hoegg, Hubert Eckart, and David Grindle.
I was planning to be in Berlin (though I'd never been abroad) in early June as part of a CIEE Architecture focused faculty development seminar and wanted to connect with theatre educators and practitioners during my two extra days in Berlin. This session was invaluable in making connections in Germany. A brief discussion and exchange of business cards following the session gave way to countless e-mail correspondences as I planned my trip abroad. Hubert and Gabriele were instrumental in arranging meetings as part of my trip.
These meetings included time with Technical Director Olaf Grambow and Assistant Technical Director Marco Fanke at the Deutsches Theater Berlin; Franziska Ritter and Professor Kerstin Laube at the Technical University of Berlin; Professor Tina Kitzing of the Beuth University of Applied Sciences; and Technical Director Hans Hoffmann with the Staatsoper at the Schiller Theater. Thanks to DThG, I also saw the acclaimed new production of Bertolt Brecht and Kurt Weill's The Rise and Fall of the City of Mahagonny, performed completely in German by the Staatsoper at the Schiller Theater (because the Staatsoper theatre is undergoing a full renovation). It was an incredible experience touring both theatres and learning the differences between an opera company and traditional theatre in the United States.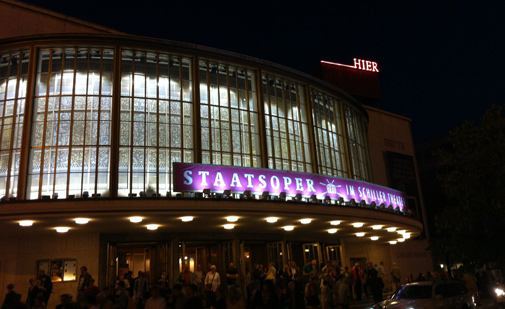 By meeting with theatre educators, I learned a lot about how design is taught, how text is interpreted, and what the process is for studying theatre and entertainment design and technology in Germany. It was fascinating to see student models and the facilities at both TU-Berlin and Beuth University. The Rise and Fall of the City of Mahagonny was an inspiring show to see. The set was simple – only a bead curtain and a mirrored door, with projections and lighting to transform the audience to the mythical city of Mahagonny. Much was left to the audience's imagination. It was fascinating, with scenic design by Vincent Lemaire and costumes by Christian Lacroix. The packed Schiller Theater came to life with the haunting sounds of Kurt Weill's score. This incredible show will remain a source of inspiration for me for years to come.
In addition, I stumbled upon the Friedrichstadt-Palast Berlin (Europe's Show Palace), where I saw the high energy, acrobatic, Vegas-style spectacle, Show Me. This show was on the opposite end of the spectrum from Mahagonny. It cost over nine million Euros and incorporated LED lights, projections, moving lights, automated scenery, a pool, a waterfall, and high fashion costumes. One word to describe it: phenomenal!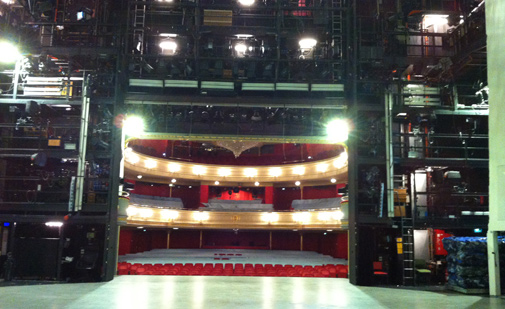 I left Berlin, with a better understanding of how theatre is taught, how the opera companies work, and a new way of looking at design. I left Berlin inspired, thanks to those at DThG. Their help and commitment allowed me to grow as an educator and professional. I now have an arsenal of images and ideas to share with my students at Longwood University.
This experience has been a life-changing one for me. That would not have happened were it not for the USITT-DThG partnership and the connections that I made. I have a deep sense of thanks and gratitude for the incredible opportunity that I had. The partnership between USITT and DThG is one of excitement and promise.
Their conference, Stage-Set-Scenery will be in Berlin next June for all those interested in experiencing the world of international design. It would be a perfect companion to the Prague Quadrennial 2015.
Scott C. Chapman, www.scottcchapman.com, is assistant professor of theatre and resident scenic and lighting designer at Longwood University in Farmville, Virginia.