Conference & Stage Expo
First Scenic Arts Challenge Successful Beyond Expectations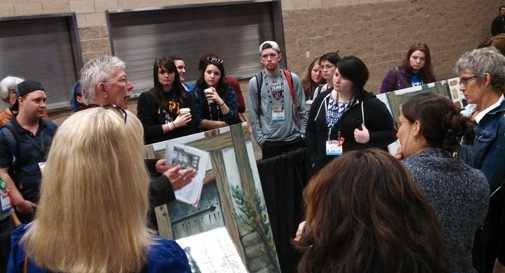 The first Scenic Artist Challenge held by the Scenic Design & Technology Commission at the Fort Worth 2014 Conference & Stage Expo.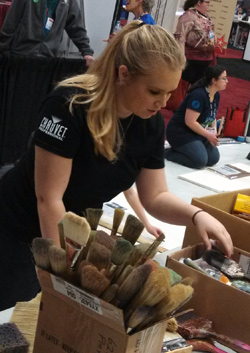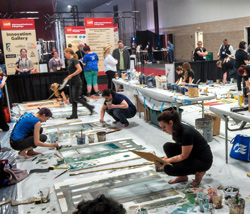 Eighteen students arrived at the Paint Lab as part of Stage Expo and were handed a rendering and a flat. Their task was to reproduce the rendering in four hours.
The Paint Lab was outfitted with paint from Rosco. Tools and other supplies were provided by several universities, and the lab was staffed by both student and adult volunteers. Original expectations were that a modest eight people would participate. Demand grew, organizers worked to accommodate the 18 students although a total of 29 people signed up.
At 1 p.m. the participants lined up, got their instructions, and started painting. They had until 5 p.m. to finish. In that time they had to cartoon their flat, mix color, and paint the design on the rendering. Since this event had no prize, experienced scenic artists acted as mentors to walk around and help the participants if they questions about techniques or process. The mentors included Ellen Jones, Jenny Knott, Jamie Clausius, Amy Shimko, Kimb Williamson, Max Amitin, Howard Jones, and Daniela Weiser.
Most of the participants finished with a mad rush in the last 15 minutes. The next morning, the mentors and the participants got together again to look at every flat. The mentors responded to what they saw in the flats and asked the participants about their process as a sizable crowd looked on.
Since there was such a huge amount of interest in the Paint Lab and the Scenic Art Challenge, plans are being made for an expanded version in 2015.