News & Notices
Secretary Byrd Gives Back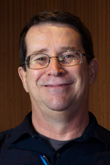 Jimmie Byrd fell in love with theatre in high school when a friend talked him into taking an acting class. He ended up getting the male lead in the Neil Simon play Star Spangled Girl.
The experience led him to pursue acting in college, but he stopped getting cast, he said. Rather than bow out, he shifted his sights backstage, toward scene construction, painting, lighting design -- "whatever I could do to be involved in theatre," he said. "I just gravitated toward it."
He has stayed involved in theatre ever since, for the past 25 years as senior production coordinator for the Chandler Center for the Arts in Chandler, Arizona. During that time he has seen that city's population quadruple along with the number of productions and events at his venue – now more than 1,000 a year.
As his career responsibilities grew, so has his relationship with USITT. On July 1, he became Secretary of the national organization.  Although he attended his first USITT Conference in college, it was the 1998 Conference & Stage Expo in Long Beach, California, that led him to become an active member. 
"A bunch of us were talking about how we were free that morning because we didn't have a Regional Section meeting to attend," he recalled. "Someone said, 'We should start our own Section.'" They did.
He and Jerry Gorrell, then technical director for the city of Phoenix theatres, were among the leaders who worked to launch the Desert State Regional Section, which received its charter from USITT in 2000.
Mr. Byrd served the Section as second vice-chair and editor of its newsletter for three years, then spent three years as Section Chair. That position included representing Desert State on USITT's Nominations Committee for a three-year stint.
For the past three years, he has volunteered on the Membership Committee and feels most members want more networking and continuing education opportunities. He ran for secretary last year with the goals of increasing the value membership and strengthening the relationship between the national organization and its regional and student chapters.
Mr. Byrd said his decades at the Chandler Center – whose turntable construction allows it to go from an 840-seat venue and two smaller theatres into one big, 1,508-seat main stage – has taught him "how to multi-task, prioritize, and perform production miracles while serving two and occasionally more masters."
As the new Secretary, he hopes to bring his technical production, Regional Section, and USITT experience to bear to explore cost-effective, year-round opportunities to keep members engaged in the Institute for their entire careers.
Being involved in USITT is rewarding because of the nature of the theatre tech community and theatre itself.
"There's very little individual theatre done by one person," he said. "We are a community that's very used to working together for the good of the production."
He said he fears being Secretary will have one drawback: there will be more mandatory meetings to force him to miss other exciting Conference sessions. But that's OK, he said.
"USITT has provided me with many opportunities and allowed me to grow professionally," he added. "This is my way of giving back."