Conference & Stage Expo
Changes in the Wind for Stage Expo and Events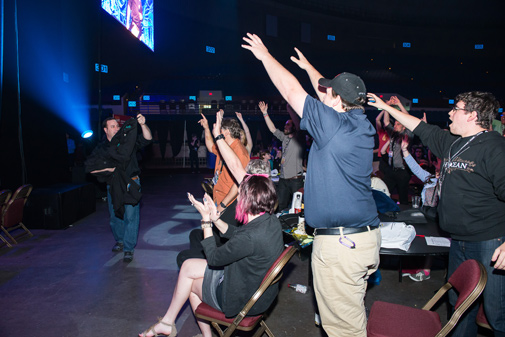 The USITT Conference Committee recently returned to Cincinnati, host city for the 2015 Conference & Stage Expo.  For some committee members, it brought back great memories of the show six years ago; for others, it was a completely new experience. For all, the location meant exciting new changes to the Stage Expo format.
Based on feedback and new ideas, the committee adopted changes that will amp up the excitement and create a stronger experience for attendees and a better investment for sponsors and exhibitors. 
The New Products event is moving to Wednesday, March 18 from its previous Thursday slot. It will be re-branded as the New Products Showcase and Stage Expo Preview.  The Opening Night event needed some rejuvenation.  The New Products event will ignite enthusiasm and set the tone for a successful exposition.
The festivities will begin 7:30 to 8:30 p.m. with the Opening Night Cocktail party, followed from 8:30 to 10:30 p.m. by the New Products Showcase & Stage Expo Preview.
The Exhibitor's Hospitality Hide-Away
After reviewing the exhibitor surveys, the Committee concluded that the Power Hour wasn't working as intended. The goal was to create a dedicated time for exhibitors to socialize with buyers and professionals in the industry.  The Hide-Away will become that location and opportunity in 2015.
Professional members and qualified buyers will have access to the Hospitality Hide-Away which will serve as a "sky club"-like environment for meetings, networking, and relaxing. 
There will be a cocktail party in the Hospitality Hide-Away Thursday, March 19, from 5:30 to 6:30 p.m. for the buyers, professionals, and exhibitors, giving exhibitors a chance to network with their VIPs. It's the first time Stage Expo will host a cocktail party on the floor after hours. 
There will be a cash bar, but exhibitors may buy blocks of tickets and distribute them to their VIPs to use during the party. Tickets will be on sale at exhibitor registration, the bookstore, and the exhibitor lounge.
The sponsor of the Hide-Away will be able to say a few words to welcome everyone and create recognition, but the event is for all exhibitors to host their clients and meet new buyers and professionals.
In addition to these new programs, the Scenic Artist Showcase will feature scenic drops from exhibiting companies. New sponsorships have been created for better networking opportunities for attendees and ways for sponsors to connect with those who need their services.  These include a new Conference Attendee Lounge in the session area, Opening Night sponsorship of the new event, and the Hospitality Hide-Away. 
The Institute strives to create a better experience, education and return on the investment for attendees, sponsors, and exhibitors.