News From
Contributing Members
Gantom Lighting & Controls: Firm Changes Name, Upgrades Membership
Gantom Lighting & Controls has changed its name and increased its level of membership support to that of a Contributing member.
The company, formerly known as Darklight: Precision Lighting, has been a USITT member and exhibitor at Stage Expo. The company still manufactures what it believes to be the smallest LED spotlight. The Gantom IQ is a compact gobo projector with both zoom and focus. The company invites creative ideas to see what its small but highly effective fixtures can do.
Visit the website at www.gantom.com
ETC: Products, Sofware Run Brief Encounter
The Kneehigh Theatre adaptation of Noel Coward's Brief Encounter has impressed crowds in the United Kingdom, Australia, and the United States. As the show makes its way around the globe, its stunning lighting is accomplished thanks to a system full of ETC products.
The show was originally programmed on a different console, but migrated to an ETC Eos console in 2009.
"Brief Encounter has undertaken numerous tours in various countries, and for most of the time, the show has utilized the Eos family of consoles," explains electrician Ben Nichols. "We find the Eos software to be extremely powerful while being easy to use."
To learn more about ETC and its products, visit www.etcconnect.com.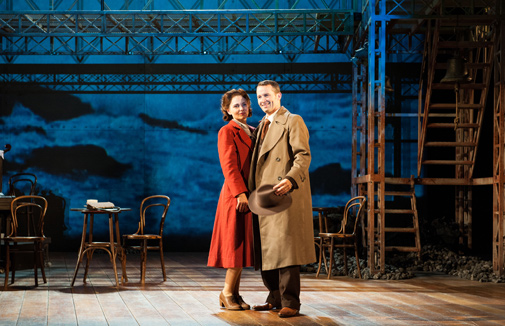 Wenger Corporation: Cabinet System Organizes, Protects Equipment
Wenger Corporation's new media storage cabinets – both fixed and mobile models – organize and protect audiovisual equipment and media. All cabinets can be customized to suit a customer's unique storage needs and preferences, with a variety of shelves, drawers and accessories. As needs change, components can be easily reconfigured or even swapped between cabinets.
"Before Wenger, our media storage room was a mix of old library shelves, second-hand cabinets and a used peg board," recalls Dann Hurlbert, AV specialist and film studies instructor at Henry Sibley High School in Mendota Heights, Minnesota. "The Wenger cabinet solution is night and day better than what we had before. All the same equipment is still there – just organized and out of sight."
Built of durable, industrial-grade composite wood with polyester laminate, cabinets feature bolt-through construction on doors and hinges. Cabinets are Greenguard certified to protect indoor air quality. They ship fully assembled and are backed by a 10-year warranty.
Meyer Sound: Loudspeaker Array Ideal for Chicago Shakespeare Theater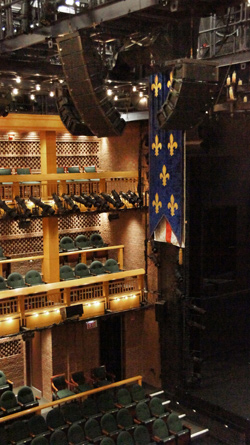 At the Chicago Shakespeare Theater (CST), a Meyer Sound M1D line array loudspeaker system is optimized to provide audio support for everything from Shakespearean dramas to contemporary, high-energy musicals like Follies, Sunday in the Park with George, and Gypsy.
Designed to meet specific architectural challenges, the system was supplied by long-time Meyer Sound dealer TC Furlong, Inc. of Lake Forest, Illinois, with logistical coordination by Jeff Cech.
"The diverse form factors of Meyer Sound loudspeakers lend themselves well to the specific geometry of our thrust theatre," said Chris Plevin, CST director of production. "The small-form MM-4 front-fill cabinets and relatively compact M1D arrays allow us to realize the best possible acoustic reinforcement without impacting the scenic and lighting designs."
ETC, PRG: Rigging Aids Studio Redesign
Based on appearances alone, it may be hard to believe that the new state-of-the-art iHeart Radio Theater in Burbank, California used to be the home of NBC's The Tonight Show Starring Johnny Carson. When Clear Channel Communications began the process to refit the former home of the late night show, it was clear they had quite a few challenges on their hands, particularly when it came to rigging. ETC worked closely with systems integrator PRG and entertainment design company Sholight to plan the massive overhaul and redesign.
"We needed to find a rigging solution that was modern, efficient and versatile," stated Tyler E. Littman, owner and principal designer of Sholight. Therefore, the old counterweight system was removed and replaced by ETC's motorized rigging system. "ETC's Prodigy rigging system seemed to be a natural fit for this project."
The 20,000-square-foot iHeart Radio Theater regularly hosts live events and performances, such as album release parties, that take full advantage of its new, high-capacity rigging system.