News & Notices
In Memoriam: Charles Berliner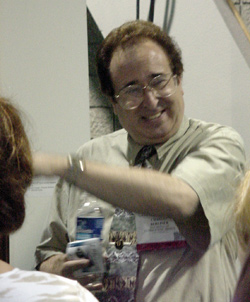 The many friends of Charles Berliner were saddened to learn that he had passed away at his home in Los Angeles in mid-May.  Charley, as he was known by many USITT members, had served for 28 years as the Western Region business representative of United Scenic Artists, Local USA-829 of IATSE. He retired from that position in August 2012, having served as an important liaison between USA-829 and USITT for many years. 
A native of San Francisco, Mr. Berliner received his BA in theatre at San Francisco State University (1969) and his MFA in stage design at Brandeis University (1971), where he was a student of Broadway designer Howard Bay. Mr. Berliner had a long and distinguished career as a costume and scenic designer for theatre and dance productions, film, and television.  He designed for many regional theatres, including the Oregon Shakespeare Festival, the Missouri Repertory Theatre, the Milwaukee Repertory Theatre, the Cleveland Playhouse, the Kennedy Center, and the American Southwest Theatre Company in New Mexico. He was the resident designer for the Improvisational Theatre Project for the Mark Taper Forum in Los Angeles.
Among his favorite productions were The Sound of Music and Bells Are Ringing (featuring Florence Henderson and directed by Michael Kidd) for the California Civic Light Opera, and the West Coast premieres of Harold Pinter's Betrayal, James Lapine's Table Settings, and Christopher Durang's Baby with the Bathwater.
For film, Mr. Berliner designed the costumes for Haunts, starring May Britt, Cameron Mitchell, and Aldo Ray, and Journey into Mystic Time, directed by Shirley Clark. For Diana Ross, he designed the fashion montage sequence of Mahogany. Mr. Berliner's costumes were seen for five seasons on the PBS television series Visions.
Mr. Berliner's costume designs for the National Theatre of the Deaf production of The Italian Straw Hat were included in the USA exhibit of the 1999 Prague Quadrennial. An extensive exhibit of Mr. Berliner's career as a costume and scenic designer was presented at the 2004 USITT Annual Conference & Stage Expo. His work also was featured in Entertainment Design magazine.  His illustrated children's book, I Want Much More Than a Dinosaur, was published in 2006.
Having served with Charley Berliner for a decade on the USA-829 Western Region Board, I know how very much he loved the theatre as both a gifted designer and an avid audience member. His incisive wit and sometimes mercurial temperament combined with his innate intelligence in his role as a passionate advocate for his fellow members of United Scenic Artists, especially those whom he represented in the Western Region. Although he tended to eschew academia, he had a soft spot in his heart for teaching and mentoring student designers, serving as a guest designer or instructor at several universities including UCLA and the University of Georgia.