News & Notices
Architecture Awards Applications Open July 1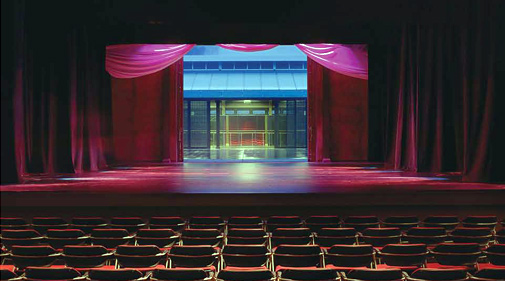 USITT's annual Architecture Awards recognize exceptional performance spaces completed in the past 10 years.
Applications open July 1 for the 2015 Architecture Awards. Apply here. The deadline to enter is September 1. Winners will be announced in early 2015.
The 2014 Honor Award winner was Seabury Hall Creative Arts Center, a theatre prep-school performing arts center on the Hawaiian island of Maui, designed by Flansburgh Architects of Boston, Massachusetts, with associate architect Riecke Sunnland Kono Architects Ltd. of Kahului, Hawaii, and consulting by Theatre Projects Consultants of South Norwalk, Connecticut.
2014 Merit Awards went to the Bing Concert Hall (Ennead Architects, New York, with consultants Fisher Dachs and Nagata Acoustics), the San Francisco Jazz Center (Mark Cavagnero Associates of San Francisco with consultants Auerbach Pollock Friedlander and SIA Acoustics), and the Jerome Robbins Theatre at New York's Baryshnikov Arts Center (Wasa/Studio A with consultant Arup/David Taylor).
The awards were founded in 1994 to honor excellence in the designs of theatre projects. Architects practicing anywhere in the world may enter one or more submissions. A panel of experts adjudicates submissions based on creative image, contextual resonance, community contribution, new technologies, and functional operation.
The jury may award as many Honor or Merit awards as it sees fit. The Honor Award is the top USITT award for architecture. Merit awards may go to runners-up deserving of recognition.
For more information, visit http://www.usitt.org/architecture.