News & Notices
Announce Candidates for 2015 Elections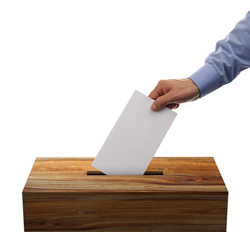 It's time again to look toward the future of the Institute and consider who to select to lead it.  The slate of candidates for the 2015 elections has been released by the Nominations Committee.
Candidates for Directors (six to be elected to office) are, in alphabetical order: Shan Ayers, Richard Dionne, Joel Ebarb, R. Michael Gros, Dennis Hassan, Tammy Honesty, Howard Jones, Jenny Kenyon, Verda Beth Martell, Linda Pisano, Loren Schreiber and Joe Tilford.
The six elected Directors will serve three-year terms beginning July 1, 2015.
Running for  officer positions are:
Treasurer:
Dan Culhane (single nomination)
Vice-President of Communications:
Bill Browning, Michael Mehler, and Mike Monsos
Vice-President for Members, Sections & Chapters:
Andi Lyons (single nomination)
Vice-President for Programming:
Kasey-Allee Foreman (single nomination)
Vice-President for Special Operations:
Eric Rouse (single nomination)
* In the case of single nominations, this means that only one name was submitted to the Nominations Committee to run for this officer position.
If members feel that a really great candidate was not identified and should be on the ballot, additional candidates can still be added to the ballot by petition signed by 50 USITT members.
For information on the process, email Jimmie Byrd, who took office as Secretary of the Institute on July 1.  E-mail him at Jimmie.Byrd@chandleraz.gov.  Deadline for adding names to the ballot is September 1.
Online voting for the 2015 slate of candidates will begin in late October and run through December 5. Watch Sightlines on candidate profiles and position statements.
The work of members of the Nominations Committee, a time-intensive procedure that involves a great deal of thoughtful observation and identification of future leaders of the Institute, is greatly appreciated.