The Last Word:
Life After USITT

I suppose the title is misleading; it implies that I'm done with USITT, which certainly isn't my intention.  For several years, theatre design hasn't been my focus, but the friends and connections through the Institute will always remain an important part of my life.
I held several offices in USITT, including the Presidency from 1994 to 1996, VP for Conferences for what seemed to be a decade, Director of International Affairs before it was a VP position, and Board member for several terms.  With Bruce Brockman, I co-designed the United States exhibit for the Prague Quadrennial.  But, my most important moment was at the Kansas City Conference & Stage Expo so many years ago, when a group of us from the great North Woods got together and proposed a new Regional Section called Northern Boundary.  That group became tremendous friends and colleagues and remain so today.  I think that is the enormous value of USITT—professional and personal connections. 
My activities with USITT led to some international opportunities, both in design and leadership.  I suppose I had gained a reputation as a strategic planner (I have always thought the design and production process were like some grand planning scheme – with deadlines), and I was asked by OISTAT to lead them through their first strategic planning process.  I became active with OISTAT and was subsequently elected its president. 
An ensuing opportunity in the United States  to make some substantive changes in my professional life meant that I had to resign from OISTAT, the most difficult professional decision I have ever made.  I really felt I was helping make a difference in the international community and spent weeks agonizing over the resignation, even knowing for the sake of my personal growth it had to happen.
It is always fascinating to me to look back at the evolution of careers, both those of friends as well as my own.  Somehow, a rewarding career as a scenery designer at the University of Minnesota, Duluth, evolved to a dean's position there, then at the University of Nebraska, Lincoln; then at Penn State—where I worked under the leadership of a wonderful president, Graham Spanier, who became a great mentor to me.  I assumed that I would finish my career at Penn State, but a couple of national search firms took me under their wings, and I began getting nominations to apply for presidencies at different colleges and universities.  I found myself a finalist for three presidencies in 2006 and was swayed by a wonderful group of people to join Baldwin Wallace University as their eighth president.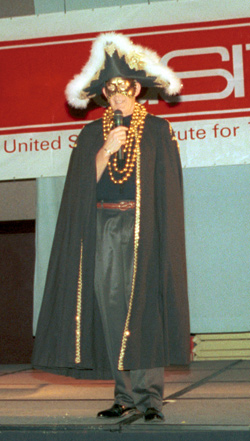 I loved the small college atmosphere, rather like the camaraderie that develops around a theatre production—a whole lot of people pulling together to make complex things happen.  I spent six glorious (truly) years at BW and my only professional regret is that I didn't find the presidency until so late in my career.  After six years there, and still enjoying incredible health, Karen and I decided that retirement was in order—a chance to continue the world travel we enjoy so much and the opportunity for the first time in our lives to take advantage of situations when they arise, not being tied any longer to the academic calendars we enjoyed for 40 years.
 I worried that I might not be able to just give up the busy life, so for two years I've been a consultant for the university on international recruiting.  I'm writing this column from a hotel in Delhi, India, where I come twice a year recruiting Indian students to study at Baldwin Wallace.  That agreement has made it difficult to attend USITT, as I am inevitably in India when the Conference happens.  However, my consultancy ends in 2014, so I hope to attend the Cincinnati conference and reconnect with great friends.