News From
Sustaining Members
RC4 Wireless/Soundsculpture Inc.: Offer Starter Kits, Open Branch Office
Props people, lighting designers, and electricians will be excited to discover that RC4 Wireless/Soundscupture, Inc. now offers specially priced RC4Magic Wireless DMX & Dimming Starter Kits for a limited time. The company has also opened a Missouri office.
Every new starter kit comes with three unique and secure Digital IDs. Since every RC4Magic user has their own IDs, no RC4 user can ever interfere with another RC4 user's show. A a low-cost Wireless LED Dimming Kit for Educators is also available. Special RC4Magic pricing runs through November 30. Learn more at www.theatrewireless.com.
The new bfanc office islocated in Raytown, Missouri with Sean Dane as sales director/application specialist. Contat him there via e-mail, sdane@theatrewireless.com; cell phone, 816-510-3812; or mail,
6720 Appleton, Raytown, MO, 64133.
TMB: Hippotizer Reigns at Livestock Show, Rodeo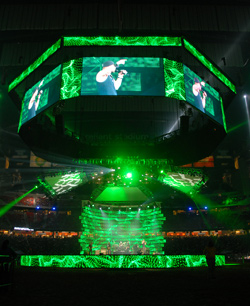 Twenty shows, 20 acts, 20 days! Hippotizer saddled up at Houston's Reliant Stadium and went the distance at this year's Houston Livestock Show and Rodeo. The annual Texas extravaganza featured nightly concerts by some of the biggest names in music, enhanced by video content wrangled and programmed by John Dickson of LD Systems, Houston.
Six outputs from three Hippotizer HDs, for which TMB is exclusive distributor, delivered synchronized video playback to a variety of video displays.
For more information about Hippotizer, visit www.tmb.com/products/hippotizer. Learn more about many other innovative and exciting products from TMB at www.tmb.com.
L-ACOUSTICS: Seek Info on Stolen Products
In January 2012, L-ACOUSTICS sent out a notification that a trailer had been stolen on December 8, 2011, in Mexico City, following a Britney Spears concert. The missing trailer contained 24 L-ACOUSTICS K1 and 18 V-DOSC line source elements, 12 K1-SB low-frequency extension enclosures, and 48 SB-218 subwoofers among other items.
Some of this equipment has started to surface on the American continent and has been offered anonymously to a third party. Please be vigilant in keeping a look out for this equipment. Any knowledge as to the existence and/or whereabouts of this equipment should be shared with L-ACOUSTICS, Procolor or local law enforcement authorities. Product returns or submissions of information may be made anonymously. Serial numbers are available upon request.
For further details, contact Jochen Frohn, L-ACOUSTICS' director of business development at, jochen.frohn@l-acoustics.com or Javier Barba, owner and general eirector of Procolor, at contacto@procolor.com.mx. The original notification can be accessed here.
L-ACOUSTICS: Mehta Featured in Historic Kashmir Concert
Maestro Zubin Mehta and the Bavarian State Orchestra hosted a landmark event September 7 in the foothills of the Himalayas in the town of Srinagar. Srinagar had not witnessed any official form of cultural activity since a cricket match in 1983, making this one of the most eagerly anticipated concerts in recent times.
Sound and Light Professionals (SNL Pro) debuted its brand new L-ACOUSTICS K1 rig for this historic event.
Mr. Mehta is the music director for life of the Israel Philharmonic Orchestra and main conductor for Valencia's Opera House.Nearly 2,000 guests attended the event, hosted by the German Embassy in the Shalimar Gardens in Srinagar. It was the lifelong dream of Mr. Mehta's to perform in the beauty and serenity of the Shalimar Gardens. The concert was televised live in 32 countries, live streamed on YouTube, and filmed in HD for a future concert DVD.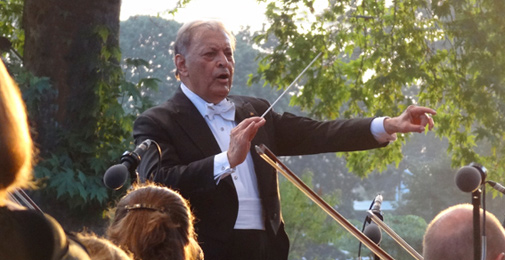 Stagecraft Institute of Las Vegas Inc.: Earns Non-Profit Status
As of April 23, Stagecraft Institute of Las Vegas Inc. has been designated as an Educational Institution under a 501.c.3 corporation.
SILV thanks everyone for their continuing support.
GLP: New Lighting Product Used in Keith Tour
Looking to create a new stage ambience for country legend Toby Keith, long-time lighting designer Seth Jackson was the first production designer to use GLP's new impression X4S LED wash light.
He has specified 83 of the compact 'S' fixtures, which introduces a new level of functionality. Supplied by Bandit Lites, they dominated the set forMr. Keith's current Hammer Down tour.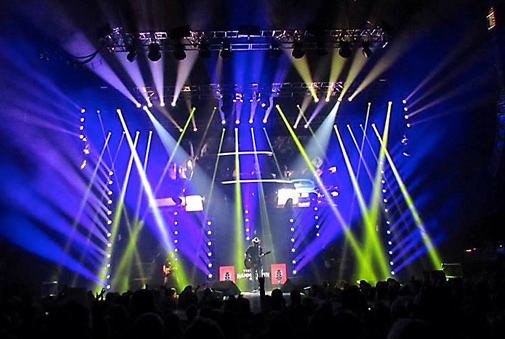 Alcons Audio USA: Adds to Digital Cinema Sound Products
The arrival of digital cinema has brought new challenges for sound systems. Simply using higher power versions of existing speaker designs is not enough to enhance the digital cinema sound experience. As an addition to Alcons Audio USA's evolutionary Digital Cinema sound system program in the surround domain, the company introduced the CRS8 high-fidelity pro-ribbon surround system.
The CRS8 is a two-way, passive-filtered, full range loudspeaker combining an exceptional clarity and intelligibility with lowest distortion and an unusually high dynamic range.
For more information visit www.digitalcinemaready.info and www.alconsaudio.com.