News & Notices
International Artist Exchange Grant Now Open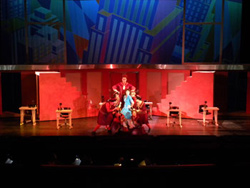 USITT is offering grants of up to $5,000 to help educational institutions bring international theatre artists to their programs to teach and interact with U.S. students.
The International Artist Exchange Grant supports collaborative projects involving at least two institutions. The sponsored artist must specialize in a field of interest to USITT members, and institutions must document the experience and share it via a visual presentation or published report. Application and eligibility information for 2014 grants can be found here.
This will be the second round for the International Artist Exchange Grant. The first grant brought Japanese scenic designer Toru Shimakawa to Ohio Northern University and the University of Oklahoma for several weeks in spring 2012.
Mr. Shimakawa participated in the 2012 USITT Conference & Stage Expo in Long Beach, California; served as designer and artist-in-residence at Northern Ohio University for a production of Thoroughly Modern Millie; and then traveled to the University of Oklahoma to guest teach for a week.
Other international artist projects could include workshops, courses, symposia, production appointments, exhibitions, or Regional Section conferences.
The International Artist Exchange Grant does require a financial commitment from the institutions involved; they must provide at minimum a combined match to the USITT funding.