News & Notices
Taylor Named 2014 Distinguished Achiever in Education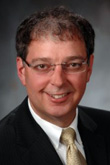 When USITT's Awards Committee announced it selected high school teacher Dana Taylor for a 2014 Distinguished Achievement Award in Education, no one was surprised – except him.
"I was surprised to be nominated and even more shocked that I got it," he said. "I mean, this is pretty impressive company to be in. I lack a Tony Award. The only thing I have in common with Ming Cho Lee (2006 Winner) is a consonant and a vowel."
Mr. Taylor will receive the award at the 2014 Annual Conference & Stage Expo March 26 to 29 in Fort Worth, Texas.
Mr. Taylor has spent 25 years teaching professional standards, best practices, and excellence in theatre technology at the high school level – and he admits that is rare.
"It's hard not to be noteworthy when so few people are doing what you do," he joked.
Michael Mehler, Chair of the Awards & Resolutions Committee, called him "one of the most knowledgeable people involved in technical theatre education at the secondary school level."

A singer, conductor, and choral music teacher, Mr. Taylor's devotion to theatre technology arose almost accidentally when he started teaching chorus at Mount Vernon High School in Indiana in 1989. The school had just renovated its auditorium.
"They decided they needed an auditorium manager, and the choir room was right next door, so I got the job," he said. "It was more a matter of proximity than ability, but sometimes that's how things work."
He arrived at Mount Vernon with a passion for choral music and lucked into a second passion for technical theatre, he said. His auditorium manager role led to a theatre tech class team-taught with a drama teacher. He got absorbed in learning theatre tech from classes, books, friends in local theatre, "lots of trial and error working with kids," and, eventually, USITT.
In 1997, he formed a USITT student chapter, and has brought students to several USITT Conferences. Since then, his school has formed a Fine Arts Academy and pumped over a quarter of a million dollars into state-of-the-art sound, lighting, and rigging equipment for its students, he said.
Besides mounting four school productions a year, the 60 students in the program do outside work, including scene and lighting for the Evansville Philharmonic's annual Peppermint Pops concert, which pays for their USITT Conference trips.
"I tell kids going to the Conference, 'You are going to a place where everyone is just as geeky as you,' where they see a chain hoist and go, Wow!" he said. "It's a place where they aren't just the kids backstage in black T-shirts – they are colleagues."
Since 2007, his students have been giving back to their colleagues with a fundraiser inspired by Fellow Bill Sapsis and his Long Reach Long Riders annual motorcycle ride for Behind the Scenes, an ESTA charity for industry professionals facing illness or injury. The Mount Vernon Short Reach Short Riders tricycle race annually raises $1,500 to $2,000 for Behind the Scenes.
Mr. Taylor's involvement in USITT has led to writing and editing work for Projection Lights and Staging News, Dramatics, and Teaching Theatre magazines, and service on the board of the ESTA Foundation. He has received many awards for his work as an educator and artist, including the Arts Council of Southwestern Indiana's 2011 Artist of the Year Award.
He says his greatest satisfaction is in seeing students grow and achieve -- in theatre and beyond.
That's a quality worthy of the spotlight.