Commissions
Costume Sessions Engage Participants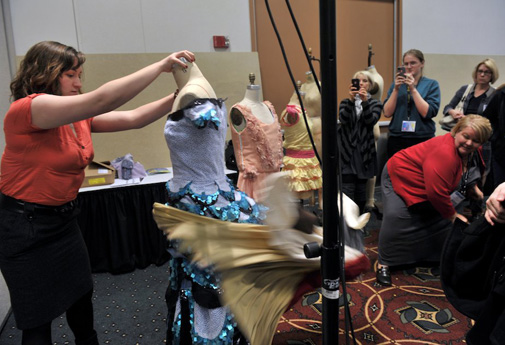 "You cannot help but learn more as you take the world into your hands." ~ John Updike
Master craftsman and apprentice – the education of the arts has been a hands-on experience since the late Middle Ages when young people agreed to become an inexpensive form of labor in exchange for food, lodging, and formal training. While this exact system is no longer the norm, the idea of hands on mentoring is alive and well within the theatre community.
The Costume Design & Technology Commission honors this tradition by programming sessions that let participants exchange ideas and techniques. For the past several years, the Commission has created sessions that are hands-on in the areas of design, technology, and hair and make-up covering topics from Working with Color Mediums, Inspiring Design, Creating a Quarter Scale Mannequin and Draping in Scale, and the cutting edge Patterning Palooza.
At the Fort Worth 2014 Conference & Stage Expo in March, the Costume Design & Technology Commission will continue to offer hands-on sessions that are informative, innovative and fun. Backgrounds, Borders & Fonts will explore many different methods and techniques for creating a depth to costume renderings without overwhelming the work. Tambour Beading Bash features the work and teaching of master beading artist, Polly Kinney (formerly of Barbara Matera Costumes). She will explain the methods and materials needed to create beautifully embellished costumes for dance and theatre. She will also demonstrate, and then she and several of her assistants will oversee participants' handiwork. (Tambour means "drum.") Finally, Getting Wiggy With It will cover bald caps, care and feeding of synthetic and real wigs, and a variety of other topics. What is unique about these sessions is that individual stations are set up, and participants can walk through at their leisure and attend the stations that interest them.
The Costume Design & Technology Commission is always interested in hearing about topics and ideas for upcoming conferences. Feel free to contact the Vice-Commissioners with suggestions: