Conference & Stage Expo
International Pavilion to Expand Conference Borders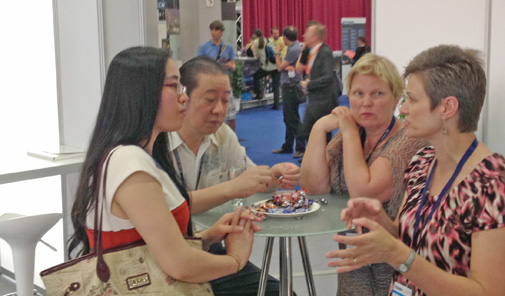 USITT's 2014 Annual Conference & Stage Expo will include a place for counterparts from other nations to interact with USITT members and each other – an International Pavilion.
President Lea Asbell-Swanger, Executive Director David Grindle, and VP for International Activities Markéta Fantová got the idea from their trip to DTHG, the German Theatre Technology Association, in Berlin this past summer.
DTHG set up its first International Associations area where organizations from Britain, the Netherlands, Belgium, Switzerland, China, and the United States displayed informational materials and designs. USITT and the Dutch association, VPT, shared two sides of a display wall.
"I liked it that two countries shared a wall, so we were connected to each other," Mr. Grindle said. "It made for a very nice flow of communication as people walked by. It wasn't a big, vast world."
"Lea, Markéta and I looked at each other and said, 'This is a great idea!'" he added.
They brought the idea home, where it was well-received by Conference planners.
"An International Pavilion will allow us to give our members an ever-expanding opportunity to communicate with colleagues around the world," Mr. Grindle said. "It will be an open area at Stage Expo with each country having an identified space to share the work of their members; a place where our allied organizations can distribute material, meet with people, and help us make connections internationally."
"That helps us grow not only the international presence at our Conference & Stage Expo but helps bring USITT International Activities closer to the individuals and businesses to continue the dialogue at home and around the world."