News From:
Fellows: Update - David Hale Hand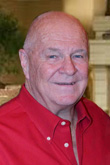 David Hale Hand, USITT member since March 1962; Co-Founder and Chair of the Rocky Mountain Regional Section; Member of the Board of Directors; VP Conferences (six years); National President 1986-1988; Fellow of the Institute since 1988
Retirement from Walt Disney Imagineering in 1995 also meant a retirement from many wonderful and meaningful activities which I enjoyed in my past. Unfortunately, it meant missing the close association with many of my dear family of USITT.
My wife and I soon moved back to Colorado where I had lived for 28 years before, to be near our children and grandchildren. We now live in a Del Webb Community outside of Denver.
Retirement by no means meant sitting in an easy chair and watching the world go by. We have traveled extensively, including the fabulous, three-week, Yangtze Three Gorges River tour and many other locations throughout Asia. I had spent considerable time in Asia during my professional career and really enjoy the people.
Working for Walt Disney Imagineering, I gained a huge background in theme parks and resorts, which enhanced the 50 years of professional experience I already had achieved working in the technical theatre industry. At WDI, people associate and learn from some of the best of the best. When I left WDI, I was besieged by people who wanted me to help them to build theme parks. Unfortunately, none of these people have any money to accomplish their dreams and have no way to find the huge amount of money required for such undertakings. They also do not know the first thing about business plans, pro formas, feasibility studies and relationship requirements with funders. Further, only Disney and Universal have the knowledge and resources to build a theme park. The viable products have become hotel developments with elements of theme and water parks, and visitor support systems making them basically a mixed-use small town or village. Such projects are not built in "downtown" areas but as their own, self-contained campus.
My first real experience caused me to develop a plan in central California which evolved from a very small community plan to be located on a closed Air Force base. The plan grew and grew to create the basis of a template which I have used for other proposals. That plan failed as the economy of California went from bad to worse.
Undaunted, my plan was recognized in the Philippines and then In Fiji. We are still trying to get them funded, but do have some potential for success.
Some people know that my father, David D. Hand, was supervising director of Snow White and the Seven Dwarves, Bambi, and about 80 other works. He was production supervisor, responsible for all production at the studio (number two man under Walt) from 1930 to 1944. He then began his own animation studio, GB Animation, with J. Arthur Rank, in the United Kingdom. He was definitely a pioneer of the animation industry. He was directly responsible for 21 Academy Awards or nominations, which were won by Walt Disney. He was awarded the Windsor McKay "Annie" for Lifetime Achievement and the Legend of Disney Award, and was honored by Queen Elizabeth (Queen Mum) during the Festival of Britain.
I have donated all of Dad's memorabilia to the newly created Animation Hall of Fame in Orlando, Florida. Dad, along with other pioneers of the industry including Walt Disney, was elected into its first class of honorees, to be presented in November.
I am a member of the Board of Directors of the Animation Hall of Fame and am working with them to find the funds to build their new campus.
In my spare time, I have written a book on my life (for my family) and have taken up oil painting (little pictures – not stage drops).