News & Notices
Making Schools Safer, One Stage at a Time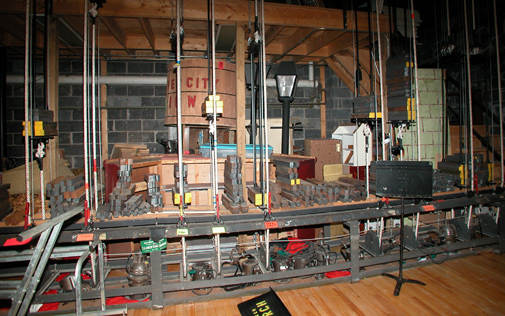 Fall means back to school and back to stage -- time for schools to apply for USITT's Rigging Safety Initiative. Apply here!
The program offers free stage rigging inspections and safety training to 10 schools twice a year, in spring and fall. Since launching the program in 2011, USITT has approved free inspections for 42 high school stages around the nation.

One of them, Arapahoe High School in Centennial, Colorado, shared this success story:
High school drama teacher Ian Ahern read about the Rigging Safety Initiative in an e-mail last spring and realized he had no idea when his auditorium's rigging was last inspected.
"It turned out the school administration wasn't sure either, so we realized it was something we should have done," he said.
The school applied for and got a free inspection that found worn rope locks on its 25-line counterweight system that could fail if not addressed.
"I am so pleased," Mr. Ahern said. "This was something I wouldn't have thought of, and if I did, I wouldn't know who to talk to. So it was a great help."
JR Clancy of Syracuse, New York, helped USITT found the Rigging Safety Initiative with a $25,000 donation. Three other rigging companies -- ETC of Middleton, Wisconsin; Shepard Exposition Services of Atlanta, Georgia; and H&H Specialties of South El Monte, California -- became sponsors this year.
Thanks to the sponsors and participating contractors, USITT can help schools obtain top-notch inspections and a four-hour safety class for up to eight staff and students for a reduced rate of about $1,000 per school -- paid for by the program.
All stage rigging should be inspected regularly, but since schools aren't covered by OSHA, they're not legally required to do so. USITT wants to establish best safety practices at the high school level and eliminate cost as a reason to put off an inspection.
Ian Ahern is in his fourth year at Arapahoe High School. He jumped at the chance for a free inspection, he said. On approval, USITT sent a list of participating contractors in his area. He saw the name Norcostco and called. "I had used them for props and costumes, but I didn't know they did rigging inspections," he said. "School let out on Memorial Day, and we got our inspection June 1."
"It went really well," he said. "The inspector was super-friendly and showed me a lot of things I didn't know about counterweight systems. He gave me a breakdown of what needed immediate attention, what could be improved over time, and what I might need to think about five or 10 years down the road. And he trained me on what students should do to be safe."
Since school was out, Mr. Ahern took the training solo and will hold his own safety sessions for stage crews, starting with the fall play, Romeo and Juliet, he said.
As for the rigging, the school has a work order to replace worn rope locks on all 25 lines before the play opens. "The work will cost $700 to $1,000, but I have repair money in my budget, and it's so well worth it," Mr. Ahern said. "I am so grateful we received this aid to improve safety measures for students in the theatre."