News From
Regional Sections
New York Area: Schedule Design, Tech Poster Contest
The New York Area Regional Section will hold its First Student Design/Tech Poster Contest Saturday, November 2d at the New York City College of Technology. This is slated to become an annual event.
Graduate and undergraduate students in the New York metro area are invited to submit posters detailing recent projects for a chance to win a complimentary, full-conference pass to the 2014 Annual Conference & Stage Expo in Fort Worth, Texas. For contest details, direct inquiries to usittnyc@gmail.com.
Ohio Valley: Fall Conference Abounds with Events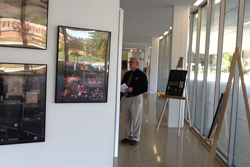 The Ohio Valley Regional Section held a very successful Fall Conference on Saturday, September 14 at Bowling Green State University in Bowling Green, Ohio.
Those attending were able to take advantage a full day of workshops, presentations, and a review and judging for the annual Peggy Ezekiel Awards paired with a Design Expo.
Sessions highlighted how to participate in International Theatre Festivals, Increasing High School Involvement in USITT, Lighting and the iPad, 24-Hour Theatre, and Cutting Machines for Crafts. Kelly Wiegant Mangan shared scene painting tips and tricks, and the members held a Section meeting to discuss USITT business.