Conference & Stage Expo
Who Are We?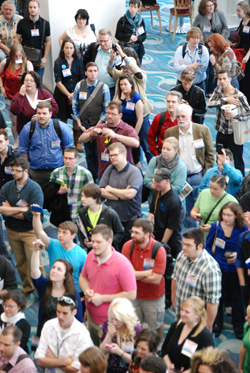 At the conclusion of each USITT Annual Conference & Stage Expo (aside from a deep sigh of relief), the USITT Office Staff begins the analysis and closing out process.
The large quantity of invoices come to the attention of the accounting personnel; reports are written looking at successful areas and those that need improvement; and this year, the Institute is looking more closely at who attends the event and why. The information assists the staff and volunteers in planning for next year's event, assists in the sales effort as the show grows, and identifies the needs of Annual Conference & Stage Expo attendees.
A survey was drafted and sent out to more than 1,500 Annual Conference & Stage Expo attendees. The questions were basic yet very important for effective event planning. Attendees were asked their primary job function; if a student, their concentration; the size of their primary venue; the amount of productions their organization produces; and their primary reasons for attending the Stage Expo.
Some results were different from perception of the event, which was rather surprising. Sixty-one percent of the people surveyed identified themselves as theatre and entertainment professionals, while 39 percent identified themselves as students and educators.
Secondary questions were designed to show who the current exhibiting companies are speaking to; and who prospective companies should be. Attendees were asked when their organization will purchase from exhibitors, their level of purchasing power, primary areas and products of interest, and what they would like to see at next year's event.
The results show more than 72 percent of attendees authorize or recommend products for their organization and will likely purchase from USITT exhibitors in the next six months to a year.
These statistics show a very strong event and were the basis for the new Exhibitor Sales Prospectus. The prospectus outlines the USITT event for companies that are interested in showcasing their products and services.
The survey helps USITT deliver more of the products and services our members and attendees are looking for while helping the event grow with new and exciting companies providing products for the theatre and entertainment industries. For exhibit and sponsorship information, contact Ron Procopio at 800-938-7488 x 107 or ron@usitt.org.