Officer Profile
Dan Culhane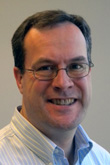 Dan Culhane, USITT's new treasurer, has a background in business, and a passion for -- and enviable record of -- finding time to give back to the organizations to which he belongs.
In a newly created position at SECOA, INC., Dan was recently named the company's technical business development manager. He and his wife, Patricia, an Equity Stage Manager, balance their careers with the raising of their two children; Daniel, a high school sophomore who plays upright bass and bass guitar, and Grace who at "almost 13" has strong interest and great skill in debating.
In addition to his work at SECOA, where prior to his promotion he managed the engineering department, Dan lent his expertise to the development of ANSI Standards. He is an ETCP Certified Theatrical Rigger, and as a member of PLASA's Rigging Working Group, he chairs the task force on the manufacture of chain hoists. He also worked on proposed revisions to NFPA 80 and fire curtain standards, and helped write the standard for orchestra pit lifts.
"I work with numbers a lot," he says, mostly equating weights of objects and capacities, to which he relates USITT's budgeting and long-range needs. Since he will be the first USITT Treasurer to serve a three-year term, Dan will have the opportunity to oversee both the germination and subsequent growth of new strategies.
He does not see the "ship" of USITT needing any changes in direction, but he would like to help build the organization's funds and investments to aid in the increased funding of research grants, and fellowships.
Dan is approachable. "I may not know all the answers, but I can find them" he says, noting that since he was chair of the USITT Audit Committee he has been part of the financial oversight for the organization. As Treasurer he will take a more active role.
Dan feels it would be helpful for the Board of Directors to learn more about the organization's financial structure, including how to use metrics and how to interpret the reports they receive, such as cash flow.
His career includes positions as technical director for the Guthrie Theater and The Children's Theatre Company, which have given him a broad understanding of the processes and needs of non-profit organizations. He was introduced to USITT by Dennis Dorn, and soon became a part of the Technical Production Commission, moving through various positions until he became senior Commissioner and was asked to run for the Board of Directors.
Dan, who took office as Treasurer July 1, was in charge of the Executive Director Search Committee, worked on the Transition Advisory Team, and has given presentations at many USITT Annual Conferences and other events, such as the recent NATEAC, North American Theatre Engineering and Architecture Conference.
He enjoys his spare time on the Troop Committee of the local Boy Scouts, and this past June participated in a week-long adventure with 27 young men, ages 11 to 17, to the Upper Peninsula of Michigan and Mackinaw Island.
When asked how he does it all he quotes Will Bellman, one of USITT's Lifetime Members, "We do it to ourselves." There is always an interesting challenge or an adventure to be undertaken. For the next three years, part of that adventure will be his new role with USITT.