News From
Contributing Members
Rose Brand: Constructs Cylindrical Projection Screen for Opening Ceremony
Rose Brand played a critical role in the construction of a three-dimensional, halo moving projection screen created for the opening of the Pan American Games. The halo's steel frame boasted a circumference of 350 feet and hung in the center of the stadium. The projection screen, made out of Rose Brand's Rip Stop Nylon, was 100 feet wide and offered a 360-degree cylindrical projection surface.
For more information on the making of the structure or to view a video of the live performance, visit bit.ly/panam-halo.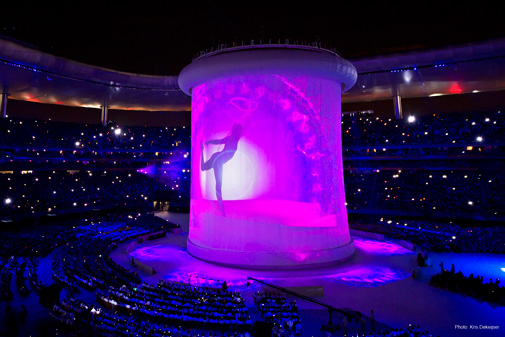 American Harlequin Corporation: Londress Retires as Marketing Manager
After working for American Harlequin Floors for 15 years, Claire Londress, the marketing manager, has retired. In her 15 years with the company, she has successfully led marketing campaigns throughout North and South America, brought valuable ideas to American Harlequin as well as to British Harlequin, (the company's headquarters in London), and ensured that the company has continued to move forward.
Ms. Londress trained Kae Lani Kennedy, who took her place as the new marketing coordinator. Ms. Londress remains as a consultant with the company to guarantee a smooth transition and to continue to contribute to the success of future marketing campaigns.
Phillips Entertainment: Glastra Named New CEO
Philips Entertainment announced that Steve Carson is stepping down as chief executive officer and Matthijs Glastra will take over as the new CEO. Mr. Glastra joins Philips Entertainment with an 18-year executive track record in the LED, entertainment lighting, and semiconductor industries. Mr. Carson will remain with Philips Entertainment for the remainder of the year to ensure a smooth transition.
Most recently, Mr. Glastra was chief operating officer at Philips Lumileds, where he was responsible for technology innovation, product creation and operations. While there, he led growth of triple revenue, eight times volume, and four times the number of products introduced. He has also held positions in marketing, sales, operations, and as general manager of multiple businesses.
Mr. Carson has been in the lighting industry for over 28 years. During this time, he has built Philips Entertainment into a world leader with renowned brands Philips Vari-Lite, Philips Strand Lighting, and Philips Selecon.
Creative Stage Lighting: Announces Training Programs
Creative Stage Lighting has launched a new, in-house training program offering training services on partner product lines beginning with Avolites consoles.
The company now offers Avolites courses on consoles like Tiger Touch, Pearl TITAN Expert, and TITAN Mobile, and more on Avolites Classic OS and TITAN OS. Courses are instructed by CSL Sales Engineer Phil Heid and can be taken online or onsite at the company's North Creek, New Yorklocation.

Creative Stage Lighting exhibited at PLASA Focus Nashville and showed the latest in Avolites, Avolites Media, and TITAN software. For more information, or for the latest training schedule and courses, go to creativestagelighting.com/training or call Creative Stage Lighting at 518-251-3302.
Meyer Sound Laboratories, Inc.: McMahon, Zacharais Appointed, Restaurant Installs Sound System
Meyer Sound Laboratories, Inc. recently announced two appointments and the use of its products in a California.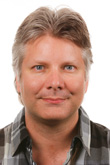 John McMahon was recently named executive director of operations, a newly created position. He will play a key role in aligning the long-term mission, operational goals, and expansion programs across the company, while continuing to fulfill his existing duties as executive director of digital products and managing director of Meyer Sound China. Under the strategic oversight of Helen Meyer and CEO John Meyer, he will work to strengthen the company's operations and its ability to innovate in collaboration with the key department leaders.
Mr. McMahon joined Meyer Sound in 2005 during the acquisition of Level Control Systems (LCS Audio) where he was CEO. Since then, he has worked closely with consultants, sound designers, and other end users while growing the company's digital engineering and technical teams to make Meyer Sound digital audio technology accessible to audiences worldwide. He can be reached at johnmcm@meyersound.com.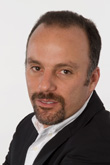 Antonio Zacarias has been named vice president of worldwide sales, a newly created position to supervise the company's growing sales activities and support the international and regional sales managers in serving Meyer Sound customers around the world. Formally director of Latin American sales, he has been instrumental in the fast expansion of the Meyer Sound Mexico office he has headed since 1998 and will continue to oversee in his new position. He is charged with all aspects of leading sales managers and partners across the globe, including setting sales goals and forecasts, developing consistent pricing and distribution policies, and evaluating and communicating new product requirements and business opportunities. Mr. Zacarias will also collaborate with the company's marketing department on promotional activities and providing technology information to customers.
Prior to joining Meyer Sound Mexico as technical support in 1997, Mr. Zacarias was audio technician and then operations manager at Audio Concepto SP, and front-of-house and monitor engineer for artists including Pandora, Mijares, and Benny Ibarra. He will relocate to the Meyer Sound headquarters in Berkeley, California. To contact Mr. Zacarias, write to antonio@meyersound.com.
Comal, a new restaurant located in Berkeley's lively downtown Arts District, is the first establishment of its kind to create an optimized aural environment using the new Libra acoustic image system and complementary Constellation active acoustic system from Meyer Sound. With a touch on an iPad screen, Comal's management can maintain the desired level of energized "buzz" throughout the space while still allowing intimate conversations, all regardless of occupancy levels.
For Comal owner John Paluska, who became a restaurateur after 17 years of managing the rock band Phish, the importance of sound in the dining experience has moved to the forefront.
ETC: Wins Lighting Product of Year Award, Adds Dealer
ETC has won a coveted ABTT 2012 Hook Clamp award for the new ETC Source Four LED. The unique trophy for Lighting Product of the Year was presented at the ABTT show ceremony on June 13 in London, United Kingdom. The honor closely follows some of the first shipments of the Source Four LED to dealers across the U.K. and further afield.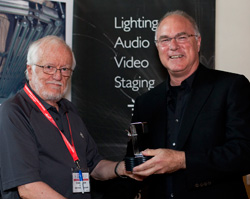 The ABTT judges praised the new LED profile spotlight for its "good light output, flat beam, crisp imaging, and ability to change color. LED profiles have undergone a change, and this product is a good example of that." ETC's CEO Fred Foster accepted the prize on behalf of the company.
ETC staff was busy throughout the two days of the show, demonstrating how well Source Four LED light works alongside other workhorse stage sources, such as incandescent.
Some of the first shipped Source Four LEDs are set to be used by the National Theatre of Scotland at the Edinburgh Festival Fringe.
Learn more about the Source Four LED or any ETC lighting and rigging products at www.etcconnect.com.
Clearwing Productions Arizona is the newest ETC dealer. This strategic partnership will give Clearwing the ability to better support its clients with a large stock of ETC products, regular product demonstrations, and technical staff members certified in ETC rigging and lighting. ETC's complete product line expands Clearwing's current offerings.
City Theatrical, Inc.: Lighting Software Available from Dealers
Moving Light Assistant documentation software is now available exclusively from City Theatrical Inc. dealers.
The software documents consoles presets/palettes and cues, and can add photographs, focus graphics, and text notes. The spreadsheet view shows configuration (lenses, lamps, menu options etc.) of moving light fixtures in the rig. Users can design and edit moving light gobo, color, and effect wheel loads. The integrated gobo and fixture library be easily customized and updated. The software allows users to import console reports from leading lighting consoles; view cue list, cue data, and channel data; examine channel usage including maximum intensity, preset use, and redundant moves, and track current cue and photographs in the cue list with the lighting console in real time using Midi Show Control. Users can design, print, or generate PDF paperwork reports as well as import and export rig data with Lightwright.
For more information, visit www.movinglightassistant.com.