The Last Word:
PQ: Ruminations from the USITT/USA Artistic Director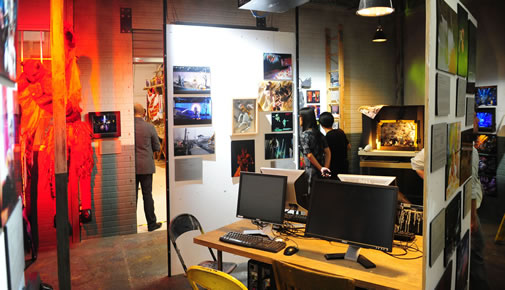 The Prague Quadrennial of Performance Design and Space is one of the greatest gifts we can give to ourselves and to our students. Those of us who have dedicated our lives to training tomorrow's theatre makers must carefully weigh the lessons of the past with what we imagine as good preparation for the future. Alas, the act of teaching necessitates a commitment to a future that we cannot see or fully imagine. Fortunately, the PQ affords an opportunity to glimpse the most forward-looking work that designers the world over are producing.
Every four years since the Cold War, theatre designers have gathered in Prague – coming together despite their country's political concerns. As many as 70 countries' curators examine, curate, and contextualize the work of their professionals, training programs, and architects. The PQ is massive in scale and takes over the entire city of Prague with exhibitions, workshops, and performances. We have nothing close to this event in the USA, and the focus on performance design offers an 11-day celebration of our work that is heady indeed.
PQ organizers in Prague set the tone by asking curators to consider the most forward-reaching work they can bring to the exhibit. The results are always illuminating and challenge our own notions of how we define theatre and what it means to be a designer, artist, and educator.
Here are some of the issues that the international platform of the Prague Quadrennial can bring to light, provoking and challenging us to reconsider what it means to train our students to be creative inventors of the future: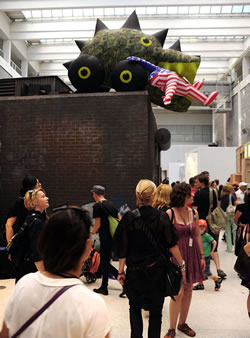 People the world over are embracing an interactive view of theatre that breaks down traditional definitions of the form.
More and more performance makers are interested in creating work that involves multiple teams of creators who are often simultaneously creating in different cities and countries.
Devised and often surprising site-specific works are being explored globally.
Theatre can reach out more than halfway to the audience; populist theatre seems to be on the rise.
Integration of media and technology become more predominant as each PQ comes and goes.
Designers everywhere revere the crafts persons whose specialties are dying with them.
The line between the fine artist and theatrical artist may be blurring more than ever.
Text-based work is becoming less interesting to a new generation of theatre artists who are vying for an equal seat at the table and inventing their own forms of performance and design.
Theatre designers are finding more ways of becoming generative rather than reactive artists – whether they become directors or create collectives where designers have a stronger voice.
One might say that these situations are natural outcomes in a world where globalization blurs boundaries; where news and entertainment have become sifted together; where interactivity with information is immediate, personal, and global; where speedy internet image gathering and relationships are au courante; where reading and reverence for books are on a decline; where multi-tasking between multiple technologies is more and more prevalent.
Whether we agree or disagree with any of these ideas, they are all worthy topics for consideration as we educate the young people who will shape the future of theatre in America. The Prague Quadrennial holds the mirror up for us in such a way that we can see world trends of the recent past leading us toward a new future. What we make of it is up to us.
*Susan Tsu is the Artistic Director of the USITT/USA/PQ11 Exhibition, an international designer and a professor of costume design at Carnegie Mellon University. She has been actively involved promoting the PQ since 2003 and urges readers to start saving up for PQ 2015 now! Susan will give  a presentation about  the PQ National Exhibits during the USITT Annual Conference in Long Beach this March. There will be daily gallery talks  by designers who were curated into the USITT/USA exhibit.