News From
Around the Institute
The Cling as Bling – part 2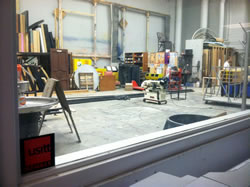 Joseph P. Donovan, who is Chair of USITT's New England Regional Section and technical director and production manager of theatre/dance at the University of Maine, saw Travis DeCastro's "cling" in the November issue of Sightlines.  He sent along a photo of his view of the shop where his sticker is located.
Share your view, or your "cling" placement with fellow members.  We think the cling is a great form of bling. Send your photo to barbara@office.usitt.org where it is sure to reach editor Barbara Lucas.
Correction
In the December issue of Sightlines President Joe Aldridge mentioned that the November meeting of the USITT Board of Directors was the first time that august body had gathered in Syracuse, New York.  Both he and the editor slipped a cog in our collective memories.
USITT's Board of Directors, Publications and Finance committees met in Syracuse in October of 2007 to celebrate moving the USITT National Office to a location closer to other arts and educational organizations.  We apologize for the lapse.
Tom Young
We wish former Director-at-Large Tom Young a relaxing time in 2012. He announced his departure from J.R. Clancy, Inc., where he worked since 1993 and was most recently Vice President for Marketing, for health reasons at the end of 2011.
In addition to his service on the Board of Directors, Tom was a long-time member of USITT's Finance Committee, and a member of the 21st Century Task Force, where his point of view is was always respected.
Additional information on changes at J.R. Clancy will be included in the February issue of Sightlines.
Juilliard to Offer MFA
The Juilliard School will offer its first master of fine arts in drama with classes beginning in the fall of 2012. It is a watershed moment in the Drama Division's 44-year history. Auditions will be held in January and February.
For detailed information, visit Juilliard's website. Apply online at www.juilliard.edu/apply.
Each year, eight to 10 graduate students will be accepted into this highly competitive four-year program. The final year of training is dedicated to performance and a host of transitional opportunities that create a bridge to the profession. Called the Professional Studio, the final year gives students access to New York City's vibrant theatre community. Students will participate in professional classes and workshops that explore a variety of practical aspects of the profession.
Costume Dictionary Now Available
The Complete Costume Dictionary, by former USITT Secretary Elizabeth Lewandowski, has arrived! It is now the new worldwide standard for reference books in its class.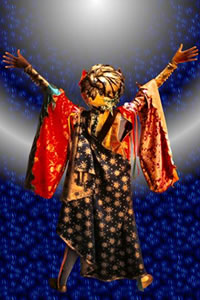 Ms. Lewandowski noted that "thanks go to everyone for encouragement over the years regarding this project even when this book was nothing more than a dream and a lot of digital ones and zeros on a computer disk."
The book's promoter notes that The Complete Costume Dictionary is available in that "funky, new, hip, and trendy Kindle format." Buy using the USITT Amazon link and benefit the organization, too. To feel the weight of decades of solid, heavy research, the traditional Dead Tree Format is available from a wide variety of discount retail outlets including Amazon.
The author will participate in USITT's Member Author Signing as part of Stage Expo in Long Beach in March. She is also planning several other related launch events.
In Sympathy: Don Childs
We are saddened to announce the death of Don Childs, an active and involved member of USITT for many years. Don underwent heart surgery earlier this fall, and was on what we all hoped would be the road to recovery, when he died December 18 in Oklahoma.
Our thoughts are with his wife, Jane, with whom he collaborated for many years, and his daughter, Tera Lynn.
More information will be included in the February issue of Sightlines. Memorials will be held during the Southwest Section event in January, and in Long Beach in March.