Commissions
New Address, New Look, for Survey of Costume Design & Technology Programs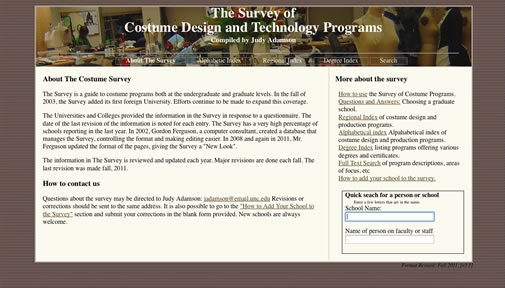 The Survey of Costume Design & Technology Programs has a new address:  http://costumesurvey.info. This is a project of the Costume Design & Technology Commission of USITT, designed to highlight undergraduate and graduate degree programs across the country.  It uses the internet to provide up-to-date information and allows Universities and Colleges to provide information on their programs to a larger audience.
The Survey was first published in 1997. The number of participating schools has grown, and is now 173. The Survey strives to stay current and none of the information on the Survey is older than 2009.  In the fall of each year, information is collected from the schools and updated on the site.  This year 70 percent of the schools responded. The date of the last revision is found in the lower right corner.
Each school represented on the Survey has reported the degrees they offer, their focus, faculty and staff with their areas of expertise, as well as a statement of strength of the program.  Contact information and electronic links to personnel and program web sites are included.  Information on how to use the Survey and an article on choosing a graduate school is still included. 
This fall the web designer and consultant, Gordon Ferguson, updated the look of the Survey.  Pages are condensed so more information is visible on the screen.  The wacky font for e-mail addresses has been eliminated.  New this year is an index of programs by degrees while the regional and alphabetical listings are still available. This allows data to be sorted in a variety of ways, such as locating the 37 MFA programs and five  A.A /A.S. programs.
The most exciting new feature is the ability to search for a school, an individual, or an area of focus, either from the home page and the search page.  For example, a visitor who types "wig" into the text search will find all of the schools that include the area in their curriculum.
While information for the Survey is solicited only once a year, schools may join the Survey at any time. There is a brief questionnaire, "How to Add your School," that can be filled out to add a university or college.  Please join this great resource.  And thank you to all who participate.
If you experience any difficulty with the new address, please contact jadamson@email.unc.edu