News & Notices
USITT Grants Continue to Educate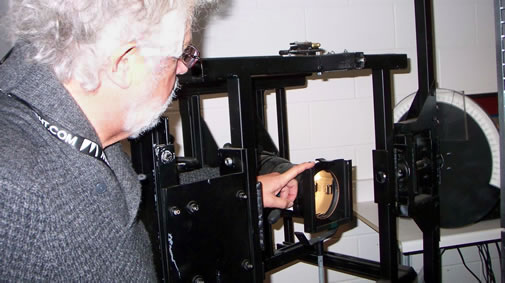 Visitors who find their way to the lower level of the Indiana University theatre building will find both appropriate spaces for a light lab and a technology studio and two projects funded by USITT which are continuing to broaden our understanding of light and hydraulics.
Rob Shakespeare is still using the shop built goniophotometric system he helped create more than 10 years ago to show students how various lighting instruments perform, "The Goniophotometer was Chad Mahan's MFA thesis, Frank Silberstein was his supervisor, and I served as client and advisor regarding the light metering protocols," Mr. Shakespeare recalls of the project's origins.
He, Mr. Silberstein, and Mr. Mahan wrote about their adventures in designing and building a device that can produce data which accurately describes the photometric performance of lighting instruments in the Winter 2004 issue of TD&T. In addition to the article, which fully explains the project's benefits and illustrates the data it can generate, the three also documented the process including a detailed parts list for others to follow in building a goniophotometer system.  That 32-page document is also still available for anyone who wants to follow in their footsteps.
Mr. Shakespeare notes that the machine was moved into the corner of the Gary Geiser Light Lab (a student of Mr. Geiser spearheaded efforts to equip it) in 2001 and it has been set up ever since, so both undergraduate and graduate classes and students can learn from it.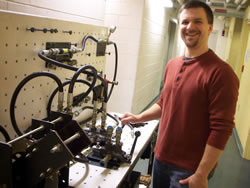 Instruments on the Light Totem which Mr. Shakespeare created were tested on it, including those used in the refurbishment which occurred this summer which added a pedestrian motion sensor. Click here to view.
While Mr. Shakespeare helped create the goniophotometric system he uses, IU's Paul Brunner inherited the hydraulic demonstration unit which allows students to first design and then implement a project in hydraulics.
The hydraulics demonstrator was also supported by USITT when it was created several years ago. To keep it relevant to changes in the technology, there is now a digital add-on which makes the system more precise and more artistically-controllable. Rob Schneider, now at the Smithsonian, created it as his MFA thesis with Mr. Silberstein as supervisor, but it continues in use as an important hands-on component of the IU program.
Both projects demonstrate how USITT support for research and development of projects and ideas can continue to be relevant far into the future. Deadline for applications for the 2012 Grant cycle is January 10. Information and application forms are available here.
The grants process includes review by the Grants & Fellowship Committee which makes recommendations for approval by the USITT Board of Directors, who will vote in March.