Conference & Stage Expo
More New Exhibitors at Stage Expo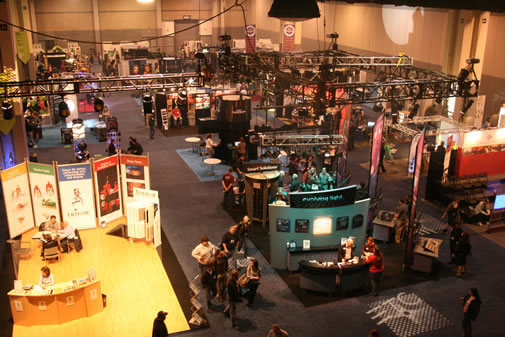 Stage Expo 2012 is filling up quickly, so a few more booth spaces have been added to handle the demand.  More than 150 exhibitors have already reserved space for the show; all eight Commercial Tables are sold, and nearly 40 Non-Commercial Tables have been reserved for colleges and universities.
Exhibitors who have signed up since the last issue of Sightlines include Darklight; Precision Lighting Systems, Boston University, The Arts University College at Bournemouth, University of California- San Diego, Carnegie Mellon University, University of Cincinnati, Conductix-Wampfler, DePaul University, Duff-Norton, The George Washington University, Georgia Stage, University of Georgia, Gerriets International, Gleason Reel, Glimmerglass Opera, Illinois State University, University of Illinois, and Lycian Stage Lighting.
Additional exhibitors are University of Minnesota–Twin Cities, Minnesota State University-Mankato, UNC Chapel Hill, UNC Greensboro, Northern Illinois University, Omaha Playhouse, Purdue, Royal Welsh College, San Diego State University, Shakespeare Theatre Company, Shure Inc., SM-SIM, LLC, SPAM, SUNY-Purchase, University of Texas–Austin, Texas Tech, UNLV, Wayne State University, West Virginia University, University of Wisconsin-Madison, and Yale School of Drama, and Santa Fe Opera.  
For more information about Stage Expo 2012 exhibitors, visit the Stage Expo Web Page to see the layout and a current list of exhibitors. Click on a highlighted booth to find a brief description for each exhibitor. The exhibitor list includes contact information, and links are provided to exhibitors' websites to learn more about their products and services.
 
A limited number of booths and tables are still available. Send an e-mail message with contact information to hpwillard@aol.com to suggest organizations not already signed up.