News From
Contributing Members
ETC/PRG: Help Light Worldwide 25th Anniversary Phantom Production
The multi-award-winning show Phantom of the Opera celebrated its 25th anniversary with a dazzling TV and live performance at London's Royal Albert Hall, supported by ETC and its official dealer PRG.
The lighting for the original show in the West End was designed in 1986 by Andrew Bridge, with associates working on it throughout the show's life. Designing for the Royal Albert Hall, Mr. Bridge worked with Patrick Woodroffe to create a production with only three performances. TV cameras were brought in to transmit the final show to thousands of theaters worldwide.
Worldwide, Phantom of the Opera has grossed over $5.1 billion. The box office revenues are higher than any film or stage play in history, including Titanic, ET, Star Wars and Avatar. It has been seen in 145 cities in 27 countries and played to over 130 million people. It is currently showing in London, New York, Budapest, Las Vegas, and Kyoto.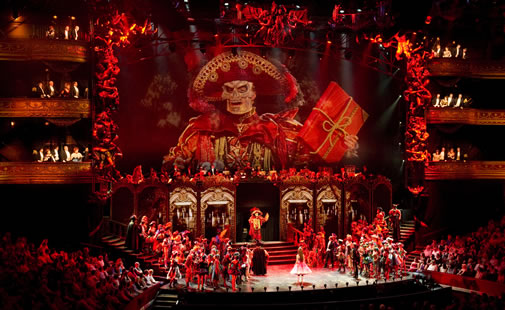 GAMPRODUCTS: Introduces New Lighting Control System, Flickmaster Version
GAMPRODUCTS, Inc., Los Angeles, California has introduced GAM Plexus, a new lighting control software system, as well as availability of Flickmaster DMX8.
GAM Plexus is designed to convert a PC into a complete lighting control system able to handle conventional lights, moving lights, or any device that can be controlled from DMX with either a USB converter, ACN 1.31, or ArtNet Signals. Based in Magic Sheet format, GAM Plexus is a light board for one or more Universes of control.
GAM Plexus software can be downloaded any number of times on any number of computers. In order to operate the actual control equipment, the security key plugged into the computer is needed to run the equipment. Upgrades for the software are free for the first year. New fixtures and other library additions will be made available free of charge.
Flickermaster DMX8, a new version of the Flickermaster, is built to the same rugged standards of the original model with some new features. It allows for both DMX control and manual control. Another added feature is it can flicker fluorescents, LEDs, and incandescent lights up to 2000 watts and has three modes of operation: dimmer, random flicker, or strobe.
For more information, contact GAMPRODUCTS, Inc., 4975 West Pico Blvd., Los Angeles, CA 90019. 323-935-4975 or www.gamonline.com.
Meyer Sound Laboratories: Studio Installs Sound System
After completing a major overhaul of its two largest dubbing stages, Wildfire Post-Production Studios in Los Angeles has become the first film and TV production facility in Southern California to offer Meyer Sound's cutting-edge EXP cinema loudspeakers in a large mixing environment.
The top-to-bottom refurbishing project—which also included new 288-channel Harrison MPC digital consoles for each stage—had stretched out across more than a year, primarily because steady bookings allowed little down time for rewiring and re-equipping. One notable project mixed using the new Meyer Sound EXP monitoring systems was Boss, a new cable TV miniseries starring Kelsey Grammer.
Wildfire Post-Production Studios provides a full range of services to the film and television production industry.