News & Notices
OISTAT Education Commission Meets in Serbia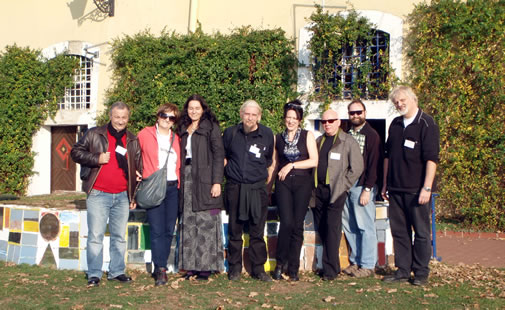 The OISTAT Education Commission held its annual meeting this year in Serbia and was graciously hosted by members of SCEN, the Serbian OISTAT Centre. The business meetings and student workshops took place at the University of Novi Sad, Faculty of Technical Sciences from November 3 to 5.
Novi Sad sits on the banks of the Danube River, about an hour northwest of Belgrade. There were representatives from seven different OISTAT centers, including the United Kingdom, Belgium, Sweden, Turkey, Serbia, the Netherlands, and the United States. The main business of the meetings was preparing for World Stage Design 2013 and Scenofest 2013, both to be held September 5 to 15 at the Royal Welsh College of Music and Drama, in Cardiff, Wales, UK. The WSD 2013 website is already up and running.
The second day of the Education Commission meeting included a special half-day workshop with architecture students from the University of Novi Sad. Students were broken down into small teams and had been given a short story as inspiration for creating a space at a location of their choosing in the city. Projects ranged from small photo studios to large railroad bridges across the river. In the afternoon, students were invited to an informational session concerning study abroad opportunities. The day was wrapped up with a farewell dinner hosted by the Rector of the University of Novi Sad, Prof. Miroslav Vesković.
Some of the OISTAT delegates, along with the members of SCEN, moved from Novi Sad to the mountain resort town of Zlatibor to attend the International Conference Theatre Space after XX c. The conference was hosted by the Serbian OISTAT Centre, the University of Novi Sad, the National Theatre in Užice, and the Yugoslavian Theatre Festival Without Translation. November 7 to 9, papers were presented on Theatre Space after the 20th Century. Each afternooon, conference attendees would travel to Užice for additional multimedia and design presentations in the black box theatre space in the National Theatre, followed by a performance each night as part of the Festival Without Translation.
The Commission is grateful to Radivoje Dinulović, Olivera Gračanin, and the rest of the hosts from SCEN for a successful OISTAT Education Commission Meeting.