Commissions
Preview Health & Safety Sessions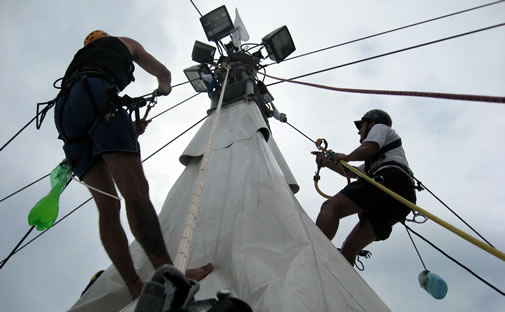 The Health & Safety Commission is presenting several interesting sessions at the 52nd Annual Conference in Long Beach. Commission members have been working hard to develop sessions that respond to interests shared by USITT members and take advantage of the amazing resources available in Southern California.
Several special guests will be part of these sessions, which are designed to inform participants from throughout the Institute.
Several special offerings, which the Health & Safety Commission would like to call special attention to are:
Fall Protection - Developing a Superior Program: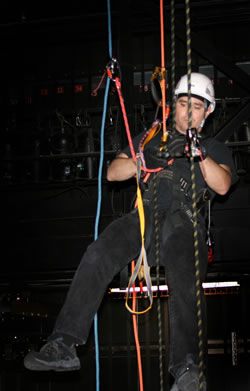 Gravitech Systems, Inc., an internationally-recognized provider of fall-protection and rescue services, assists Cirque du Soleil with the training of their personnel. Representatives from both organizations will discuss strategies for recognizing fall hazards in the workplace and developing effective programs to keep technicians and performers safe from falls.
The 2007 revisions to the ANSI Z359 Fall Protection Code require a formal managed fall protection program for all organizations where employees are exposed to fall hazards. Cirque du Soleil has created a world-class fall protection programs and training methods to teach their personnel the details of those programs.
Maintaining Healthy Technicians and Performers:
Walt Disney Parks & Recreation Creative Entertainment has developed innovative and effective programs to protect the health of employees in all areas of operation. Learn from those who helped develop and implement these initiatives how their staff ergonomists, and athletic trainers work with employees through customized exercise and nutrition programs to develop the strength, flexibility, and endurance needed to execute their work responsibilities.
Presenters will also share information on how to maintain healthy lifestyles, prevent injuries, and achieve longevity in our careers.
Stage Inspections: Regulation Requirements to Practical Solutions: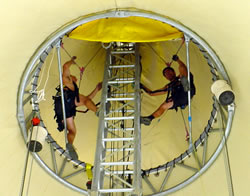 Join two environmental health and safety professionals from NBCUniversal, as they ease the anxiety of translating government regulations into practical applications to develop effective inspection templates. They will discuss relevant OSHA codes and standards and how they apply to live entertainment facilities, and share advice for developing site-specific safety checklists and other reporting tools.
Since one common responsibility for technical directors and production managers is the creation and maintenance of a comprehensive safety plan for their venues, this will help with managing the development of a formalized stage inspection process with a focus on life safety issues.
Rescue Planning and Training- When Fall Prevention Is Not Enough:
Many organizations have invested in the development of a Fall Protection Program, but accidents happen. That is when an effective Rescue Plan becomes critical. This companion session to the Fall Prevention session will have representatives of Cirque du Soleil, known for developing specific Rescue Programs for each of its shows, and Gravitech Systems, Inc., widely regarded for their expertise in planning Rescue Systems and Rescue Training. Join this discussion of strategies for developing Rescue Plans and tips on how to train personnel in implementing those plans.
Hearing Conservation: Programs and Equipment:
An effective hearing conservation program is an important facet of any o Health & Safety Plan. This requirement is often overlooked by members of the entertainment industry – and OSHA citations in this area are on the rise.
Representatives from Walt Disney Parks & Recreation Creative Entertainment will explain the relevant OSHA requirements and discuss their techniques for protecting performers and technicians in ways that do not compromise the impact of their productions and events.
Be sure to check the complete Conference Schedule for information on when and where these sessions will be conducted, as well as information on the other Health & Safety sessions which will be offered this year.
See you in Long Beach!