News & Notices
Texas in 2014!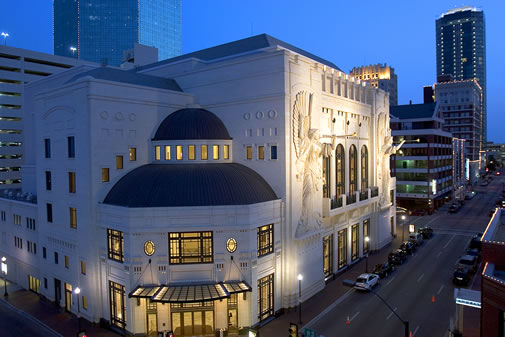 Fort Worth, home of the Bass Performance Hall, and a major center for performance in Texas, has been chosen as the site for the 2014 USITT Annual Conference & Stage Expo.
David W. Will, USITT's Vice-President for Conferences, recommended the location which was approved by the Board of Directors, allowing final negotiations to secure the site.
Major events, including sessions and Stage Expo, will be held in the Fort Worth Convention Center. Three hotels, the Hilton Fort Worth, the Sheraton Fort Worth, and the Omni, are all connected to the convention center, and all have hotel blocks reserved for USITT guests.
In announcing the 2014 site Mr. Will noted that USITT has not been in Fort Worth since 1996 and a great deal has changed in almost 20 years. The Bass Performance Hall, under construction then, is now the home to the Fort Worth Opera, Fort Worth Symphony Orchestra, the Texas Ballet Theatre, along with touring Broadway shows and entertainers.  Fort Worth has many working theatre and theatrical groups throughout the city.
DFW Airport, which has easy access to the convention center area, is served by a multitude of airlines, from Alaska Airlines, American Air Canada, Continental, Delta and Frontier, to United and US Airways.
USITT President Joe Aldridge voiced strong support for holding the Annual Conference & Stage Expo in the southwest,  "As a proud graduate of Texas Tech, I know that the state has a great deal to offer in innovation and creative thinking," he said.
Dates for the 2014 Annual Conference & Stage Expo will be March 26 to 29, 2014.
USITT has now announced its Annual Conference sites and dates through 2015, when the group will return to Cincinnati, Ohio.