News From:
Sustaining Members
Company's Lift Featured at New World Center
The recently opened New World Center in Miami Beach, is home to the New World Symphony, America's Orchestral Academy. The building is designed by Frank Gehry and Partners and features a stage lift utilizing Serapid, Inc. LinkLift Lifting Columns.
The New World Symphony fellowship program is for graduates of distinguished music programs providing them the opportunity for leadership positions in orchestras and ensembles across the globe.
The stage lift features four LinkLift lifting columns. Because of the travel distance, coupled with the dynamic capacity, the Serapid lift is the only one in the space used for both performances and load-in/load-out purposes.
For more information, contact Serapid at 800-663-4154 or on the web: www.serapid.us
New Stadium Features Wireless Systems
Technology leader LumenRadio's award winning CRMX RDM wireless system was recently used to provide extra excitement at a sold-out international Magners League rugby game at Dublin's newly rebuilt Aviva Stadium. Home of the Republic of Ireland national Rugby Union and Football teams, the state-of-the-art stadium is the only facility in the country with UEFA Elite classification. Also known as the Dublin Arena, it seats more than 50,000, and was refitted with the latest wireless broadcast and security systems before the doors reopened in May.
TMB is exclusive distributor for LumenRadio in the United Kingdom and North America (RDM units are not available in or from the USA). Click here to find out more about LumenRadio. Learn more about other innovative and exciting products from TMB at www.tmb.com.
Rigging Supports 'Last Supper' Recreation
Sapsis Rigging Entertainment Services designed and installed the truss system for the multimedia exhibit "Leonardo's Last Supper: A Vision by Peter Greenway" recently on view at the Park Avenue Armory in New York City. SRI built the support structure for a full-scale replica of the Refectory of the Santa Maria delle Grazie in Milan that would display a "clone" of da Vinci's masterpiece. In addition to supporting the larger-than-life recreation of da Vinci's famous painting The Last Supper, the rig held an array of audio-visual and lighting equipment.
To learn more about Sapsis Rigging, Inc., visit www.sapsis-rigging.com or call 800-727-7471.
Publicize SILV 2011 Offerings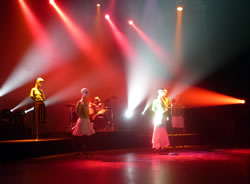 Stagecraft Institute of Las Vegas has been on the road to regional events including TETA and KCACTF Region 1 spreading the word about its 2011 classes. Its goal of training in high level technology that can be accomplished a week and a topic at a time is expanding to include automation, patterning, and projections and video this summer. For the SILV staff, one of the most innovative components of Summer 2011 will be a "Technicians Showcase" which will take place on the final day of class, July 29.
Launches New Website
Staging Concepts, Inc. recently unveiled its new website at www.stagingconcepts.com. Designed by Ackmann & Dickenson, the new site includes a modern, interactive homepage and enhanced navigation tools for fast and easy access to product pages, case studies, and contact information
The homepage welcomes visitors with vibrant photography, an organized and streamlined design, and images of products used in each of the featured market case studies. The product pages offer visitors a fresh look at the entire Staging Concepts product line.
For more information about Staging Concepts and its equipment, visit www.stagingconcepts.com or call 763-231-7105.
Complete Theatre Design Project
Theatre Projects Consultants, Inc., in collaboration with Gehry Partners and Frank Gehry, completed its most recent feat in theatre design with the opening of the New World Symphony campus in Miami Beach, Florida. Theatre Projects executed the design for The New World Center as a technologically and visually advanced music laboratory intended for the highest quality of music education and performance. Theatre Projects played a key role in the theatre design and planning as well as in designing the customized performance equipment
Add to Guard Dog Line
Checkers Industrial Safety Inc. has expanded its line of Guard Dog Cable Protectors to include eight new Low Profile designs, four of which can have optional rubber pad added to them for increased traction.

Guard Dog Low Profile is the industry's widest variety of compact, heavy duty, top-loading cable protectors. Available with 1, 2, 3, or 5 channels, these protectors are only 1.25 inches high with a 3/4-inch channel height. They protect valuable cables, reduce trip hazards, and feature either standard ramps or low angle ADA compliant ramps. For more information, visit www.cableprotector.com.