News & Notices
Elite Training Offers Special Opportunity
USITT's Elite Training opportunity in May will provide 32 student and early career members with access to the latest in technology and the chance to make it do great things.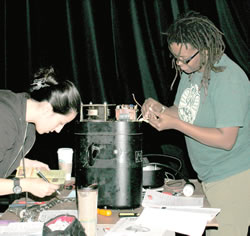 During three days at the Cirque du Soleil training center in Las Vegas, these members will have access to equipment such as Meyer Sound's D-Mitri Digital Audio Platform. Students will work in the Meyer Sound Lab with Gavin Canaan and Meyer's trainers to learn how to create some of the unique soundscapes D-Mitri can offer.
People interested in automation will get to try their hands at Stage Technologies' NOMAD system. This equipment, in use all over the world in theatres large and small, gives incredible control over all automated scenery, both on deck and flying. Participants will be able to see the programming used in Cirque du Soleil's Resident Shows in Las Vegas and learn how to create programs for the system.
Projection participants will be working with Coolux Media Manager. They will explore both the basic functions of the system as well as look at some of the optical and gestural interaction that is possible with this system. Steve Gilbard of Coolux notes they "will pace the class depending on the time available and the collective abilities of the class."
Applications are encouraged from all skill and experience levels. There is still time to be considered for this exciting new opportunity through USITT. Housing at the Fairfield Inn near the training center has been arranged at $89 per night. This includes breakfast and we are happy to pair participants so you are responsible for half of the charges.
Applications are accepted through March 15. If you have questions and are in Charlotte for the Annual Conference & Stage Expo, stop at any of the sponsors booths and they can provide more information.