Commissions
Propose a Costume Session for 2012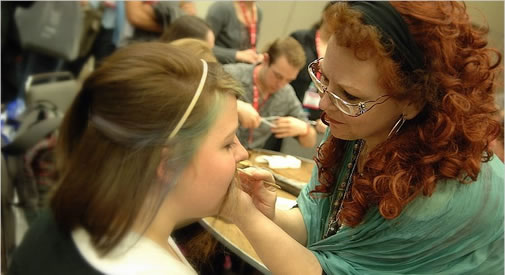 It is time to send in those costume proposals for the 2012 USITT Annual Conference in Long Beach. The proposal form is now available on the USITT website. (link) Anyone with an idea for something which would work well as a session should download the form, fill it out, and send it to Melissa Merz at melissa.merz@ttu.edu. As a backup, please send it to Donna Meester as well at dmeester@as.ua.edu.
Anyone who wants to propose one of those wonderful Pre-conference events should use the same form.
Wonder what all the crazy stuff is on the form? Fill out best as possible, and we'll help fill in the blanks.
Have an idea, but don't have a panel? Don't worry. Members of the Costume Design & Technology Commission will help with that if the session is chosen.
Don't forget, members of the Costume Design & Technology Commission vote on the proposals at the commission meeting during the 2011 Conference in Charlotte. That is why proposals are needed as soon as possible, with March 3 as the last date for submissions.
Once the forms are completed, they must still be typed up and prepared for voting at the conference.
Deadline for submitting proposals is February 28. Think the last day of February, conference in March. To date, we have one proposal. That's right: one. Remember, we need to make sure we have a bit of everything covered. This is especially true for makeup and history.
Already on the schedule are the Costume Poster Session, a potential Distinguished Achievement Award winner, and other repeating sessions.
Any questions, please e-mail Ms. Merz.