News From:
Around the Institute
Apps at the Conference
The 2011 edition of the phone app that allows users to track sessions and exhibitors at USITT's Annual Conference & Stage Expo is almost ready for release. The app for the iPhone which made its debut in 2010 will be joined this year by an app for the Droid. For information, and to download, click here.
Following and Facebooking
USITT is also making its presence known on Facebook and on Twitter. Members can follow tweets about the Annual Conference, or about the organization. Another option is to "like" USITT on the Facebook group site or become a "friend" here.
Named to New Position
Congratulations to Jonathan H. Darling, a member of USITT's Board of Directors, who has joined Westlake Reed Leskosky as AV system designer. Mr. Darling has a new e-mail address to go with his new position. He can now be reached at jhdarling@WRLdesign.com.
Lighting Archive Receives Major Gift
The Penn State Lighting Archive has received a major gift from David L. Thayer, emeritus professor of design, University of Iowa. Professor Thayer has donated his entire collection of historic lighting fixtures, dimmers, and control boards to Penn State's Theatre Lighting Archive. There are more than 75 distinct pieces, consisting primarily of early incandescent fixtures and arc fixtures. Due to space concerns following the severe flood that the University of Iowa suffered in 2008, Professor Thayer decided to seek out a home for all his equipment. Penn State has been building a significant collection of theatre lighting history over the past several decades, which includes several hundred fixtures, dimmers, and control boards, along with thousands of drawings, period gel books, catalogs, and other accessories. William Kenyon, associate professor of design, will catalog the new gift over the next several months. Questions about the Archive, its holdings, or donations of equipment, may be directed to Prof. Kenyon (lights@psu.edu).
In Memoriam, Theoni V. Aldredge
USITT notes the death of Theoni V. Aldredge, costume designer, who died in January in Stamford, Connecticut. She was 88. Ms. Aldredge designed the costumes for hundreds of Broadway and Off Broadway productions including Annie, A Chorus Line, and La Cage aux Folles, and won an Academy Award for her work on "The Great Gatsby."
She is survived by her husband, actor Tom Aldredge. She won three Tony Awards for costume design, for Annie, Barnum, and La Cage aux Folles. Her many film credits included Network, Semi-Tough, Moonstruck, Ghostbusters. and Addams Family Values.
A more complete obituary, from the New York Times, may be found here.
H&H Award Winners
Students from as close as Asheville, North Carolina and as far away as South Bend, Indiana will be able to attend the 2011 Annual Conference & Stage Expo thanks to the generosity of Reid Neslage and H & H Specialties. Six students who have been members of USITT for more than a year, and who signed up to attend the 2011 Conference before the early deadline in December, were chosen in a random drawing of eligible students to receive the H&H Specialties Student Support Awards.
Greg J. Demetrakis, James W. Deen Jr., Rachel C.C. Gordon, David Moody, Kyle E. Techentin, and Alisha J. Stauss will have their Conference registration fees rebated as the 2011 H&H winners.
New Office Assistants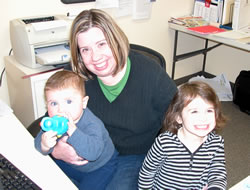 In January, just as the staff was wondering how we could possibly accomplish all our tasks before the 2011 Annual Conference, extra help arrived!
Monica Merritt found that registering people and entering data was much more fun when Oliver (with duck) and Emma Klein helped organize the work.
It was great to see their dad, Adam, as well. The family now lives in Ithaca, close to the National Office in Syracuse, so we expect to be able to call on them for assistance again soon.