Commissions
Scene Commission Outlines Activities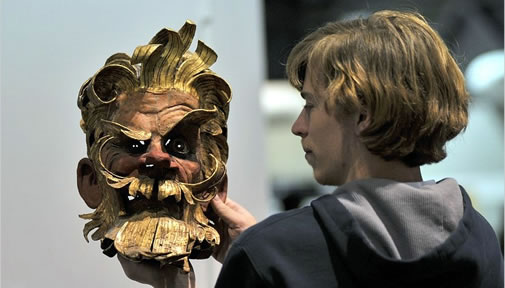 Call for Session and PDW Proposals:
The Charlotte 2011 Conference & Stage Expo is nearly here, and the Commission is busily preparing programming for the Long Beach 2012 Conference & Stage Expo. Send session ideas and contact information to incoming VC of Programming Casey Kearns ckearns@uwyo.edu. Session proposals also may be submitted at the Commission meetings in Charlotte.
Change of Leadership:
Co-Commissioner Frank Ludwig will be stepping down from his position this summer. He will remain active within the Commission heading up special project and interests. The Commission is working to identify a future Co-Commissioner. Karen Maness will remain as Co-Commissioner. Contact her directly about Commission needs at kmaness@texasperformingarts.org
Michelle Harvey has spent countless hours of service as the Commission's Programmer. Charlotte will mark the completion of her third conference in this role. Casey Kearns is incoming Programmer and can be reached at ckearns@uwyo.edu.
International Liaison Jan Chambers will be taking over for Treva Reimer.
Teaching Load Survey:
Frank Ludwig is gathering information on teaching loads and how they are applied in college and university productions. The surveys will be available at the Commission meetings. He can be contacted directly at fpludwig@viterbo.edu
Web Presence coming soon!
USITT would like to channel all official Commission communications through the central USITT website. Until then, contact any leader directly via e-mail.
For a complete listing of Scene Design & Technology Commission conference offerings, visit: www.usitt.org.
2010-2011 USITT Scene Design & Technology Commission Leadership
Co-Commissioner: Karen Maness kmaness@texasperformingarts.org
Co-Commissioner: Frank Ludwig fpludwig@viterbo.edu
Vice-Commissioner for Programming: Michelle Harvey harveymd@exchange.uta.edu
Incoming Vice-Commissioner for Programming: Casey Kearns ckearns@uwyo.edu
Vice-Commissioner for Computers: Dennis Hassan dhassan@hass.usu.edu
Vice-Commissioner for Education: Richard Larsen larsenr1@scranton.edu
Vice-Commissioner for Health & Safety: Robert Berls rberls@unca.edu
Vice-Commissioner for Scenic Art: Gregg Buck greggabuck@gmail.com
Vice-Commissioner for Heritage: Arden Weaver aweaver@d.umn.edu
Vice-Commissioner for Props: Liz Pompiel scenicdesigner@hotmail.com
Vice Commissioner for International Liaison: Jan Chambers chambersjan1@gmail.com
Vice-Commissioner for Student Affairs: Anne McMeeking annemcmeeking@gmail.com
Vice-Commissioner for Past Commissioner Nadine Charlsen nadinelc@nyc.com
Vice-Commissioner for Projects and Symposia: Ken Martin kmartin@coastal.edu
Vice-Commissioner for Scene Design: Casey Kearns ckearns@uwyo.edu
Vice-Commissioner for Publications Liaison: Heidi F. Hoffer heidi.hoffer@okstate.edu
Co Vice Commissioner for Publications Liaison: Richard Larsen larsenr1@scranton.edu
Immersive Design Liaison: Panela Leung kansascityscenic@gmail.com
Portfolio Review Co-Coordinator: Rob Eastman-Mullins robdmem@alumni.umw.edu
Portfolio Review Co-Coordinator: Ann Cadaret ann_cadaret@pba.edu