News From:
Regional Sections
Ohio Valley: Cleveland Rocks May 21
The Ohio Valley Regional Section's Spring Event will be at the Rock & Roll Hall of Fame! The attendees will get a behind the scenes look at the renovation of the Rock and Roll Hall of Fame and Museum where all new, state-of-the-art, energy efficient lighting, audiovisual, show control, and exhibits have been incorporated. A talk-back session with the lead AV/lighting designer – Raymond Kent, Director of Westlake Reed Leskosky's Innovative Technology Design Group, and members of the Rock Hall Staff will follow the tour, which will begin at 8 a.m. on May 21.
Only individuals who have preregistered by May 6 will be able to attend. There will be no walk-up registration. There will be a group discount available at the Wyndham Cleveland at Playhouse Square for $99/night with a complimentary shuttle service to the Rock & Roll Hall of Fame and free internet and WIFI. The link for making hotel reservations is available on the OVS website.
Elections are right around the corner. Individuals interested in running for the Board (Vice Chair of Operations, Secretary, or Board Member At Large) should contact Eric Rouse (ejr127@psu.edu). Voting will begin at the membership meeting at the Charlotte 2011 Conference & Stage Expo. during the conference.
Congratulations to Staci Battista who received the OVS scholarship to attend the Annual Conference & Stage Expo. She is a senior theatre major attending University of Pittsburgh. This is the first time the award has been given to a stage manager or a University of Pittsburgh student.
New England: New Locale for Arts Job Fair
The Regional Entertainment Production and Administration (REPA) Job Fair takes place Saturday, March 26 11 a.m. to 3 p.m. at Midway Studios, 15 Channel Center St., Fort Point Channel, Boston.
Sponsored by StageSource and the New England Regional Section, the job fair is free to job seekers and does not require prior registration. Candidates should come with a portfolio, business cards, and 50 copies of their resumes. It caters to production and administrative professionals looking for work in the performing arts. Employment opportunities include salaried positions, stipends, seasonal employment, and internships.
For more information, call 617-720-6066 or visit StageSource. Organizations interested in being represented should contact StageSource for registration materials.
Desert State: Meeting, Miniconference A Success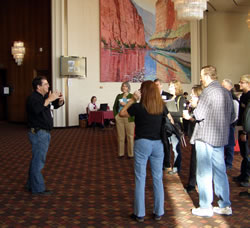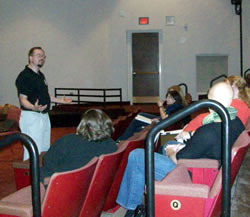 The Desert State Regional Section had a fantastic Section meeting and miniconference January 17 with its largest turn out ever. Thanks to Barbizon Arizona for providing breakfast and Clearwing Productions for grilling lunch for the group.
This year's keynote speaker was David Grindle. His presentation A Country Boy can Survive was entertaining and informative. He also presented Improving Design Team Communication by Translating English to English. The other workshops included: Bloody Shakespeare, Kathy Stephenson and Kate Ellis; Real Sound in the Real World, Joel Harris and Almir Lejlic: How to Help Your Systems Technician Help You, James Maurer; Look What I found! Working with Found Objects, Mike Holland; You Have a Degree. Now What? How to Build a Resume and Portfolio to Get a Job, Mike Eddy and Erica Black; Projector Mapping: A Way to Use Video in Your Productions Micah J. Stieglitz; and Renovating Performing Arts Spaces Jimmie Byrd & Company. J.R. Clancy and ETC took part for the first time.
Marie Quinn from Northern Arizona University, Samantha Armitage from Arizona State University, and Ruth George from the University of Arizona won the Student Awards.
A one-day AutoCAD workshop led by Jennifer Setlow will be held 10 a.m. to 5 p.m. Saturday, March 5 at ASU. Price is $25 for students and $40 for professionals. Click here to register on the website. For more information, contact desertstateusitt@gmail.com or visit Desert State USITT on Facebook.
Southwest: Symposium, New Awards Some of Section Activities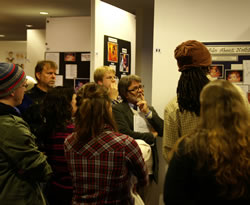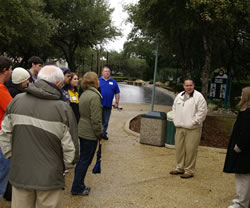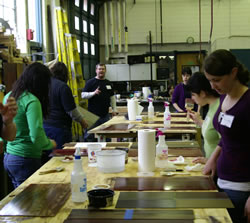 The Southwest Regional Section held its Winter Symposium on January 15 to 16 in San Antonio, Texas. It was the largest yet with over 150 attendees. San Antonio College was the host for a number of master classes and the student design competition.
Featured events included tours of the Tobin Collection of Theatre Arts at the McNay Art Museum, and backstage tours at SeaWorld San Antonio. Sixty-five students participated in an adjudicated exhibit; prizes included USITT National Conference Registration and air travel sponsored by Schuler Shook, and training sessions at Fisher Technical Services, Meyer Sound Lab Factory, Vari-Lite, and the Stagecraft Institute. Chris Velvin, health and safety manager for Cirque du Soleil, was the keynote speaker for the symposium.
Students, faculty, and professionals spent two days in workshops and master classes such as Wood Graining Scene Painting Techniques with Jon Young, Rock and Roll Moving Light Design and Programming with Jim Hutchison, and Casting and Molding for Costume and Prop Crafts with Kasey Allee-Foreman. Steve Gilliam from Trinity University was the featured regional artist, who exhibited a variety of scenic designs from his career. Mr. Gilliam was also a respondent to the student design competition and taught a workshop in Digital Scenic Rendering. Costume Designer Rafael Jaen, author of Developing and Maintaining a Design-Tech Portfolio, also adjudicated the student designs and taught a workshop in Costume Rendering.
The Section created two new awards at the symposium, the Oscar Brockett Teaching Award and the Don J. Childs Student Service Award. These will be given for the first time at the e 2011 Conference & Stage Expo in Charlotte in March. For a complete list of the student design competition winners, and the sponsors of the symposium and awards, visit: www.usitt-sw.org. USITT-SW would also like to extend a big thanks to Debra Coates and the students, faculty, and staff at San Antonio College for hosting the symposium.
Midwest: Program Includes Theatre Tour, Workshops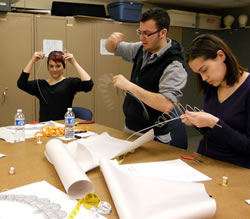 The Midwest Regional Section held its third program of the year January 22 at University of Wisconsin-Whitewater. The program started with a tour of the theatre and design facilities, followed by the first two sessions: a roundtable discussion into the current practices in the world of Stage Management led by Steve Chene, technical director at UW-Whitewater and AEA Stage Manager Laura Wendt; and a hands-on workshop led by Jeffrey Lieder from UW-Milwaukee on Wire Frame Hats and Headpieces. Mr. Lieder has worked on three productions of The Nutcracker ballet, creating the tiaras and headpieces for designs by Zach Brown. The tiara of the day for the workshop was the Sugar Plum Fairy headpiece. Nine participants worked for three hours to create the wire frame for the headpiece based on the original pattern.
During the afternoon sessions, Eric Appleton, scenic designer at UW-Whitewater led a hands-on make and take session Down and Dirty White Models, and provided tips and techniques to get a scenic design into a 3-D model in less time. Tracey Lyons, costume designer at UW-Whitewater led another afternoon session on Using the Computer to Enhance your Costume Renderings, using Adobe Photoshop and PowerPoint.
The Section plans two more events this year: Indianapolis on April 2, and a Design Competition at the Krannert Center at University of Illinois, Urbana Champaign. Check out the Midwest website for up to date information.
Upstate New York: Upstate Meets in Syracuse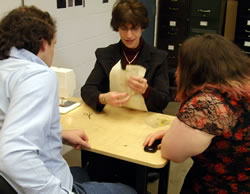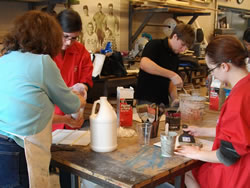 Jason Grasso, his students, and LeMoyne College r hosted the Upstate New York Regional Section's winter program. It consisted of training sessions and a job fair.
Students took a scene painting workshop with Donna Wymore of Cobalt Studios and learned wardrobe crew essential skills from Judy McCabe of SUNY-Oswego. The day concluded with interviews conducted by Glimmerglass Festival, Hangar Theatre, and Merry-Go-Round Playhouse.
The Upstate Section spring meeting is tentatively set for April 23. Check www.usittupsny.org for details.