Commissions
Architecture Award Presentations, Contest Planned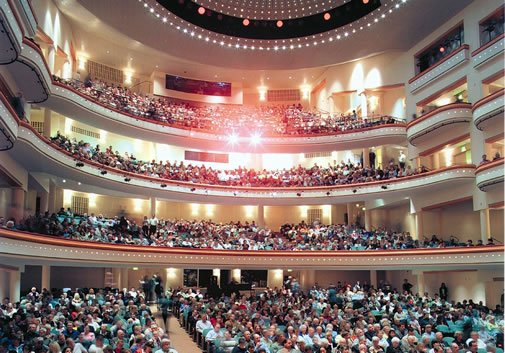 How do you top the 50th anniversary USITT Conference & Stage Expo? The Architecture Commission has found a way. On Friday, March 11, the Architecture Commission Reception and two Architecture Award Ceremonies will be held at the Blumenthal Performing Arts Center.
The evening will start with a presentation of the winners of the USITT Architecture Award. The USITT Architecture Award is recognized by Theatre Architects from around the world as one of the highest honors a theatre design can receive. In January, Norman Pfeiffer, Joshua Dachs, and Yasuhisa Toyota met to review 27 theatre projects submitted by architects from five countries. Four projects were selected for Merit Awards, and one was given a Honor Award. Representatives for each project will attend the event.
The highlight of the evening will be the presentation of the Distinguished Achievement Award to internationally renowned architect Cesar Pelli, FAIA. Mr. Pelli led the design of the Blumenthal Performing Arts Center.
The following Saturday at 10 a.m., during the "Expo Only Time," the three finalist teams of the "Ideal Theatre" Student Design Competition will compete for the Commissioner's Award. In a nod to current TV talent shows, all Conference attendees are invited to vote for the winning team. The teams are made up of theatre and architecture students working together during the 2010 fall semester to program and design the "Ideal Theatre" for their university's performance arts department. The professional jury–Tim Hartung, Mr. Dachs, and David Kahn–selected teams from Clemson, Woodbury University, and University Nevada Las Vegas as the finalists. Representatives from American Seating, the competition's corporate sponsor, will present each team its award.
The Architecture Commission extends a special thanks to jury members, Vice-Commissioners and session presenters. It is their dedication, time and professionalism that makes the programs of the Architecture Commission possible.