News & Notices:
Announcements
Still Time to Attend USITT's Annual Conference
USITT's 51st Annual Conference & Stage Expo kicks off in just a few days in Charlotte, North Carolina. It is not too late to decide to attend, just register onsite in the lobby of the Charlotte Convention Center.
Boxes, and containers, and pallets of materials have already been shipped from USITT's offices in Syracuse, New York so plan to see What's Next March 9 to 12.
Extend Deadline for Study Tour
Openings are still available for the 2011 Prague Study Tour June 9 to 22. For complete details and costs of the tour, go to www.usitt.org/StudyTours.aspx.
Features of the tour include an overnight trip to Cesky Krumlov to see Krumlov Castle and the baroque theatre, a stop at the famous Budvar Brewery, and tours of Prague's Jewish district, Prague Castle, and the Museum of Decorative Arts. Participants will meet with Czech designers, enjoy an evening of opera, and experience dinner at a typical Czech brewery restaurant.
As a special, optional event, participants will have the opportunity to see a presentation by the author of a new book about Liberace and his famously extravagant wardrobe.
Land only packages are available for those who want to extend their stay. For more information, contact Marianne Custer at mcuster@utk.edu
To Present Distinguished Achievement Award for Education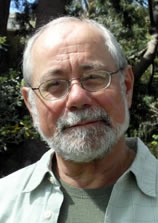 Professor Craig Wolf will receive the 2011 Distinguished Achievement Award in Education Friday, March 11 as part of the Charlotte 2011 Conference & Stage Expo. The session will be held 5:30 to 6:45 p.m.
An overview of his career as an educator, a discussion of his pedagogy, and his advice to a new generation of faculty and designers will follow the presentation. Joining Professor Wolf will be three of his alumni, who will provide the student perspective his teaching.
Holiday Card Design Deadline Nears
The deadline for entries for Behind the Scenes' second annual holiday card student design contest is March 30. The contest is open to any lighting, set, video, or costume full-time design student interested in creating an original design for a 2011 card.
The winner will be chosen by a panel of previous holiday card designers. The winner's design will be among the cards offered for sale to raise money for Behind the Scenes which provides financial assistance to entertainment technology professionals who are seriously ill or injured.
The winner will also receive a free pass to a Live Design Master Class in lighting, sound, or projection to be held in May in New York City.
Click here to view design guidelines and cards from previous years. For questions contact holidaycard@estafoundation.org.