WYSIWYG Developer to
Receive Special Citation
Frustration with inadequate lighting procedures in the 1990s led to a revolution of the entertainment lighting industry and is instrumental in awarding of yet another honor to Gilray Densham.
Mr. Densham, who helped develop and refine WYSIWYG (What You See Is What You Get) programming for lighting applications, will be honored with a Special Citation by USITT at its 45th Annual Conference & Stage Expo in Toronto this March. The honor will be bestowed at the conference's Awards Banquet on Saturday, March 19.
After 25 years as a lighting designer for the Canadian Broadcasting Company, Mr. Densham and partners Rick Szijarto and Robert Bell established Cast Lighting in 1994. The company has evolved into the Cast Group, and grown from three to 30 employees. It now operates with two divisions, Cast Software and Cast Lighting, providing state-of-the-art design software and consultative services to the entertainment sector. The company serves the film, television, theatre, event, and meetings industries.
Mr. Densham accepted the Emmy award for technical achievement in lighting in 2001 for Cast's software suite WYSIWYG, programs that together enable computer aided design, visualization, and pre-cueing of entertainment lighting.
In 2005, the company is launching and expanded product offerings, Vivien, a design and planning application for the event and meeting industry.
"In reality, we started this company in 1994 and we changed the industry," Mr. Densham said. "I don't think many people can say that."
To Top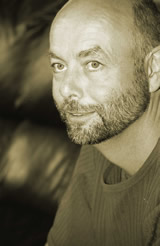 Gilray Densham, who led a revolution in lighting procedures, will receive a Special Citation at USITT's 2005 Annual Conference & Stage Expo in Toronto in March.