Willa Kim to Receive Award,
Launch Monograph Series
Willa Kim, acclaimed designer, will be honored with USITT's Distinguished Achievement Award for Costume Design as part of the 2005 Annual Conference & Stage Expo. She is also the subject of the first in a planned series of monographs celebrating major American designers to be published by USITT and will be on hand to sign copies of that monograph as part of the Conference.
Ms. Kim is originally from Los Angeles, California, where she studied at the Chouinard Institute of Art as a scholarship student, concentrating on fashion illustration. She worked at Paramount Studios where she met and assisted Karinska, who was working with Raoul Pène Du Bois, realizing his designs for the film version of Lady in the Dark.
She assisted Pène Du Bois on productions including Gypsy, Wonderful Town, and The Music Man, and Karinska on designs by Salvador Dali and others. As she says, she, "made things beautiful," and, in fact, helped make them look like the sketches.
Her own professional career as a costume designer began in earnest with the Red Eye of Love in 1961. Since then, she has designed costumes both on and off Broadway, throughout the U.S., in Europe, and in Asia. Widely regarded as one of the foremost costume designers for dance, she has an excellent sense of color and line. Her long time collaborations with choreographers Michael Smuin and Eliot Feld have been especially successful. Her credits include designs for operas, over 125 ballets, and television. She won two Emmy Awards for The Tempest and A Song for Dead Warriors when the ballets were broadcast.
Ms. Kim's many honors include an Obie Award (The Old Glory in 1964), Drama Desk Awards for Promenade (1969) and Operation Sidewinder (1970), and the Maharam, Drama Desk, and Variety New York Drama Critics Poll awards for The Screens in 1971, among many, many others.
She has received two Tony Awards for Sophisticated Ladies and for The Will Rogers Follies. Theatre Development Fund honored her with the Irene Sharaff Lifetime Achievement Award. She was presented the Ruth Morley Designing Woman Award by the League of Professional Theatre Women, and in 2003 received an award for her artistry from the Fashion Institute of Technology.
Ms. Kim's twenty-first century designs include Eyes of the Soul, Bury Me Standing, and Bèsame for Ballet Hispánico, St. Louis Woman for the Dance Theatre of Harlem, The Immigrant for Dodger Stages, Rough Crossing at the Bay Street Theatre in Sag Harbor, New York, and The Bay at Nice at Hartford Stage.
Ms. Kim will receive her award twice, once as part of An Afternoon with Willa Kim from 4:45 to 6:05 p.m. on Friday, March 18 and again as part of the Awards Banquet on Saturday, March 19.
In addition, Ms. Kim will be the guest at a special book signing from 3 to 4 p.m. Friday, March 18 at the USITT Booth at Stage Expo. The lavishly illustrated monograph, The Designs of Willa Kim, written by Bobbi Owen, includes a detailed account of Ms. Kim's life and career along with complete design chronology. The foreword is by Tony Walton who delivered the Keynote Address at USITT's 2004 Conference & Stage Expo and Tommy Tune contributed a "fond remembrance" of their many collaborations.
The Designs of Willa Kim will be released as part of the USITT Conference and will be available at the USITT Boutique. It will be available at the USITT bookstore, either on-line or by calling 800-93USITT after the conclusion of the Conference.
To Top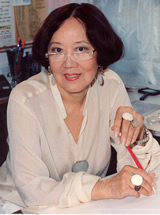 Willa Kim, winner of USITT's 2005 Distinguished Achievement Award in Costume Design, above, was chosen as the subject in the Institute's first monograph celebrating major American designers. The volume will make its debut at the Conference.